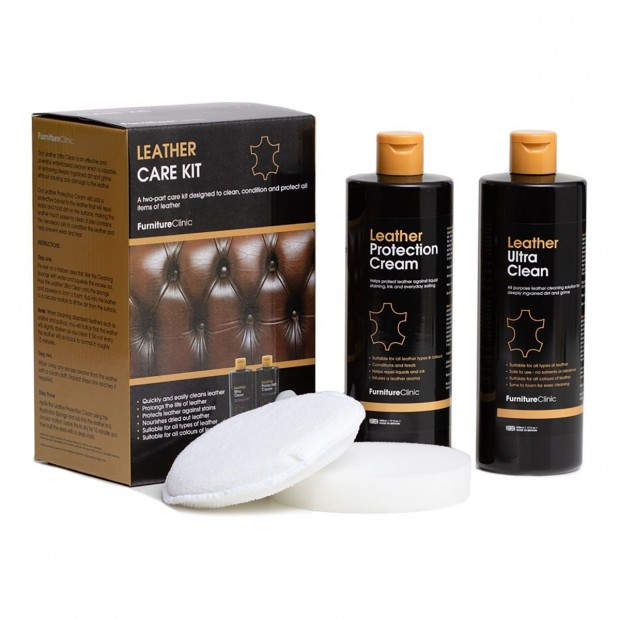 About Leather Care Kit
The Leather Care Kit is a two-part leather cleaning kit designed to clean, condition and protect all items of leather. The kit comprises of;
Leather Ultra Clean
A safe to use, gentle leather cleaner capable of removing even the toughest build up of dirt and grime from leather. Cleaning with a sponge to create a foaming action, this gets into the grain and lifts out dirt easily.
L

eather Protection Cream
After cleaning the leather, it is necessary to condition it. This product not only feeds and conditions leather but will add a protective layer that repels stains and helps prevent wear and tear. Infused with a luxurious leather aroma the Protection Cream also reinstates the smell back into old and new leather.
Cleaning Sponge & Applicator Sponge:
Cleaning sponge to gently clean leather and a soft applicator sponge to apply the Leather Protection Cream.
Leather Care Kit is Suitable For
The Leather Care Kit can be used on all different articles of leather, from furniture and car interior to clothes, shoes, handbags and even equestrian leathers. It works on all colours of leather and all different grain types.
Aniline and semi-aniline leather

Pigmented leather/ topcoat leather

Oil and wax pull-up leather

Two-tone and mottled leather

Rub-off/ antique finished leather

Bicast leather

Vinyl and faux leather, including bonded leather

Suede and nubuck
Leather Care Kit's Coverage and Shelf Life
500ml of each product is enough to
Clean & protect a three piece suite 6 times!
Clean & protect a large car interior 10 times!
Store in a cool dry place, away from direct sunlight.
Store between 8°C and 30°C.
Once opened, use within 3 years.
Leather Care Kit Contains:
500ml Leather Ultra Clean

500ml Leather Protection Cream

1 x Cleaning Sponge

1 X Applicator Sponge

1 X Foaming Bottle (free gift)
Step 1. Clean the leather

The first step in caring for your leather should always be to clean it with the Leather Ultra Clean and the Cleaning Sponge provided, even if the leather is new.

Pre-test on a hidden area first. Wet a sponge with water and squeeze the excess out. Pour the Leather Ultra Clean onto the Cleaning Sponge and squeeze to create a foam. Use this to rub into the leather in a circular motion. This will lift the dirt from the surface. Wipe away any excess cleaner from the leather with a clean cloth. Repeat this process if required.

NOTE: When cleaning absorbent leather such as Aniline and Pull up, the leather will soak up the cleaner and darken – this is normal and will revert to what it was once dry. You should work swiftly across one full panel at a time to ensure the leather darkens evenly throughout.

---

Step 2. Apply Protection Cream

Apply the Leather Protection Cream using the Applicator Sponge and rub into the leather in a circular motion. Leave this to dry for 10-15 minutes and then buff the area with a clean cloth.

Applying the protection cream in this manner will ensure your leather has complete protection from dirt and staining.

NOTE: Now your leather is fully protected, it is recommended to wipe down your item once a month with a damp cloth to remove any surface dust. Doing so will stop future build ups of dirt.

---

Four Seasons Leather Care Plan

Step 3. Leather Care Maintenance

Four Seasons Leather Care Plan

You should clean and protect your leather every three months to ensure thorough protection from dirt and staining all year long. The beauty of doing this is that your leather will never be difficult to clean again, simply needing to be wiped down with a damp cloth every now and then to remove settled dust.

This is definitely worth doing if you have children, pets or you have an absorbent type of leather like aniline or pull up. Our system will make your leather last longer, greatly prolonging its lifespan.
Instructional Videos
Please view the videos provided below for easy to follow, visual instruction on how to use this product effectively, demonstrating how easy it is to use on real life examples.
Advantages

Key Advantages

Cleans - Safely cleans all leather back to a 'new' condition. Not only that but after applying the Protection Cream, all future dirt will be held on the barrier it creates and will easily wipe off. It helps stop leather absorbing dirt!

Conditions - Feeds the leather with natural oils and waxes preventing it from drying out and cracking.

Repels Stains - Effectively holds dirt and all oil plus water based stains on the surface to simply be wiped away.

Protects - The Protection Cream adds an invisible barrier to the leather that protects the leather from the elements as well as stains. When you sit on leather you cause friction. Continuous friction will wear away the leather's coating causing your leather to become rough and faded. The colour may even start to peel and wear off! The Protection Cream absorbs all friction and so helps prevent these problems.

Aromatic - This product will temporarily infuse the smell back into all items of leather.

Reduces Fading - With added UV inhibitors the Protection Cream also helps prevent the sun from fading the leather when it is in direct contact.

Proven Performance

Added barrier protection technology in the Leather Protection Cream allows the leather to repel oil and water based stains, retaining them on the surface so that the leather can be easily wiped clean. The images below show just how effective this barrier is in repelling water and oil-based spills.

The image on the right shows how the Leather Protection Cream has caused the liquid to bead up on the surface preventing it from causing a stain, whereas the image on the left shows that the liquid has completely soaked into the leather, making a simple spill far more difficult to tackle.

Without protection cream

With protection cream

Not only that but it makes the leather easier to clean in the future. How? Because it stops dirt from being absorbed or becoming ingrained in the leather allowing you to wipe the dirt away easily.

Modern Leather - Why this product is ideal for it! - Most leather sold in shops and in all car interiors has a pigmented finish on it. This means that the leather is painted and then sealed with a lacquer. It is impossible to feed the leather because you cannot breach the surface and so the oils and waxes can't soak in. In these cases, it is not the leather that is drying out and cracking but the pigment on the surface.

Using a leather conditioner on such leathers will have no benefit, instead, you need a product that protects the finish. The Leather Protection Cream adds a protective layer to the leather that will protect the finish from all wear, tear and heat.
Leather Care Kit – FAQ
Q. Can I use both products on my cream settee?
A. Yes, you can use both products on any colour of leather. Neither have any solvents or abrasives in them therefore they will not damage the leather in any way.
Q. Will the cleaner remove stains from leather?
A. There is a good chance that our Leather Cleaner will remove stains from your item, however, this does depend on the type of staining, and how long it has been there. We recommend using our Leather Stain Remover or Leather Ink Remover Kit for specific stains. If you have already protected your leather using the Leather Protection Cream, then you have a much higher chance of the Cleaner removing the staining.
Q.
Is it safe to use these products on any type of leather?
A. Both our Leather Cleaner and Protection Cream can be used on all types of leather. Some of the most common types they work on are:
Aniline and semi-aniline

Pigment leather

Oil and wax pull-up

Two-tone and mottled leather

Rub-off/ antique finished leather

Bicast leather

Vinyl and faux leather, including bonded leather
These products cannot be used on suede or nubuck. For this, we recommend our Suede and Nubuck Cleaner and Suede and Nubuck Protector.
Q.
Does the Protection Cream prevent staining?
A. Yes, our Leather Protection Cream has been specifically designed to repel stains, including water and oil based stains. The natural properties of the Protection Cream stops stains penetrating the leather, making it easier to simply wipe them away. Common stains that it will repel are tea, coffee, wine, dye transfer, and ink staining.
Q.
I also have leather in my car, can it be used on that?
A. Yes, both our Leather Ultra Clean and Leather Protection Cream can be used on all articles of leather: furniture, car interior, clothes, shoes, equestrian leather and many more.
Q. Will the Protection Cream alter the way my leather looks?
A. No. It matches the natural appearance of your leather; it will not darken or make your leather shine.
NOTE: If you would like to create a shine, simply apply more layers of the Protection Cream.
Leather Care Kit
Excellent leather care set combining 500ml Leather Cleaner and 500ml Protection Cream. Cleans, feeds, and protects whilst reinstating the original leather aroma.
Quickly and easily cleans leather, even with deeply embedded dirt

Prolongs the life of leather

Protects leather against stains, spills, and ink

Nourishes dried out and faded leather

Infuses luxury leather aroma

Suitable for all leather types and colours
Limited free of charge special offer: Foaming bottle + cleaning cloth
Original $548.00