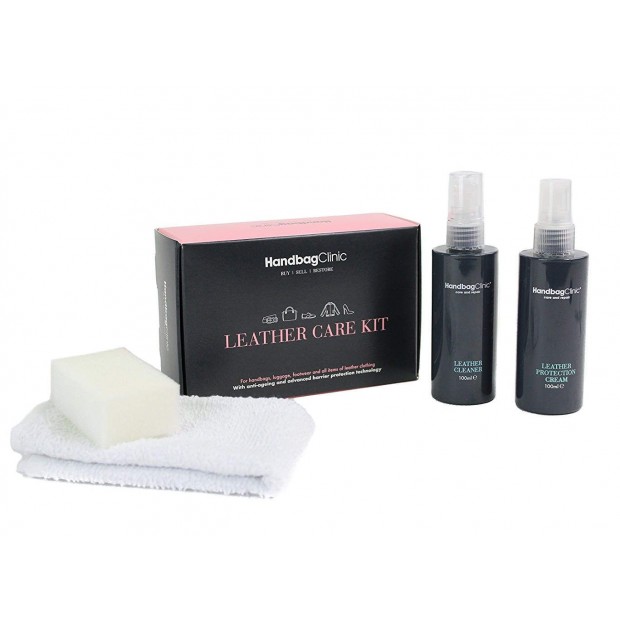 The Leather Care Kit for handbags has been designed to clean, nourish and protect all items of soft and delicate leathers that are used on luxurious items of clothing, footwear, handbags & luggage throughout the world.
The kit compromises with our specialist Handbag Leather Cleaner and Protector.
Leather Cleaner
A delicate cleaning agent which can be used on all leathers and is able to remove deeply ingrained dirt with the confidence that it will not cause any damage to your items.
Protection Cream
Our Protection Cream creates an invisible barrier on the leather, which helps repel dirt and staining, making it much easier to care for your items going forward. With added UV barrier protection it also helps slow down colour fade!
Leather Handbag Care Kit is Suitable For
The kit can be used on all items of leather except Suede & NuBuck. For these, you should use our Suede & NuBuck Handbag Care Kit.
Be confident using the kit to clean & protect;
Finished & sealed leathers

Vachetta leather

Unfinished natural leathers

Lambskin, buffalo & pigskin

Snake, crocodile & ostrich

Vegetable tanned leather

Suede & Nubuck; use the Suede & NuBuck Handbag Care Kit
Leather Handbag Care Kits Coverage and Shelf Life
Clean & protect an average sized leather handbag 6-7 times!
We recommend cleaning and protecting your handbag once every three months for all year round protection.
Store in a cool dry place, away from direct sunlight.
Store between 8°C and 30°C.
Once opened, use within 3 years.
The kit contains specially developed versions of our Leather Care Products that we have used & perfected over the years.
● 100ml Leather Cleaner for Handbags
● 100ml Leather Protection Cream for Handbags
● Cleaning Sponge
● Cleaning Cloth
The kit comes with Leather Cleaner and Leather Protector. If your handbag or leather item is brand new or un used, the first thing you should do is apply a coat of the Leather Protection Cream. This will build up the protection on the bag to help reduce soiling & staining caused by everyday use such as rain, spills and wear & tear.
Then, every three months, wipe the leather down with the Leather Cleaner to remove the build up of dirt and re-apply the Protection Cream.
"This nifty little care kit will do wonders on all your leather goods. Here at Handbago, we definitely love our precious bags. So, we were thrilled to have found out about the Leather Care Kit. No longer do we have to take our bags into repair shops…the Leather Care Kit is small, portable and simply convenient to use" Lani Beck, Handbago.com
Leather Handbag Care Kit FAQ
Q. Can I use this to clean my Louis Vuitton handbag, both the honey coloured leather and monogram leather?
A. Yes, you can you use both the cleaner and protector on the vachetta leather and monogram. As the vachetta leather is absorbent, it may slightly darken during cleaning however will lighten once dry.
Q. Will the cleaner damage the monogram on my LV bag?
A. No, the leather cleaner in the kit is made of very delicate cleaning agents which are strong enough to remove dirt and grime, but not strong enough to cause any damage.
Q. My handbag has suede sides, can I still use this kit?
A. We have a specific handbag care kit for suede and nubuck, we would recommend using Suede & nubuck Handbag Care Kit on the sides of your bag, and the leather care kit for the rest of your bag.
Q. Will the protection treatment affect the look of my bag?
A. No, the Protection Cream within the kit will create an invisible barrier which does not alter the look or feel of the leather. If the leather is absorbent, it may slightly darken when it is applied but will dry back to normal.
Q. I have an ink stain on my bag, will the cleaner remove this?
A. There is a chance that the leather cleaner will remove the ink stain, however it will depend on how long it has been on there for, and if your bag was previously protected before becoming stained. If the cleaner does not remove the stain, you can use our Ink Remover Kit.
Q. What does the Protection Cream protect against?
A. The Protection Cream helps repel both water and oil stains, along with the most common stains such as dye transfer from clothes, and juice or tea/ coffee spills. It will prevent dye being transferred and it will retain other stains on the surface so they can be easily wiped off.
Q. I have a very natural (absorbent) leather on my bag, is it safe to use the Protection Cream on this type of leather?
A. Yes, it is excellent for this type of leather. Two applications will be necessary as the first coat will be totally absorbed by the leather. In doing so it will stop the leather from absorbing stains, which it otherwise would do. It also lubricates the leather fibres preventing them from abrading one another, therefore stopping the leather from wearing.
Leather Handbag Care Kit
Prolong the life of your most prized possessions with our leather cleaning and protection kit for handbags.
Ideal for cleaning and protecting any leather handbag (except Suede or NuBuck).

Quick and easy to use.

Supplies enough product to clean and protect a leather handbag for up to 2 years.

Cost effective alternative to replacing a handbag or getting a professional clean.