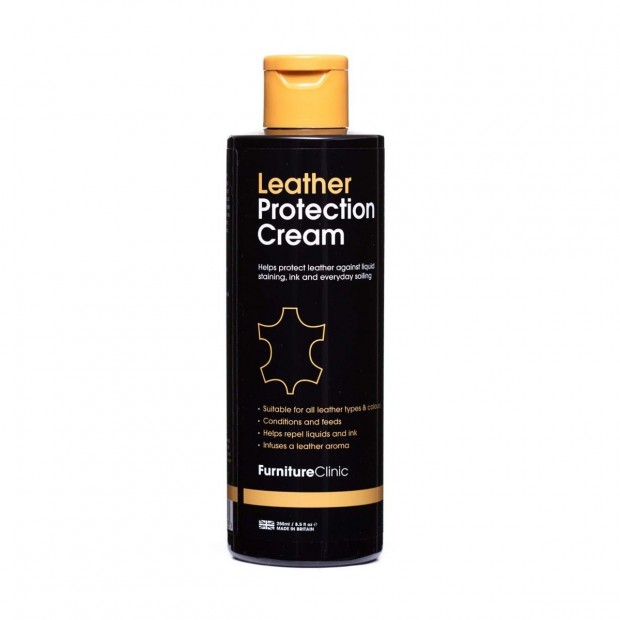 About Leather Protection Cream
Leather Protection Cream is a water-based leather protector used to condition, protect, nourish, and re-instate the aroma into old and new leather items.
As leather is used, skin oils, perspiration, and grease will slowly start to attack the leather, causing the leather to discolour, crack and peel. This damage can be seen on most items of furniture where a person rests their hands and head, on car steering wheels, the collars of jackets appearing as a dull, dark mark, or the handles on a handbag which shows as a dark stain.
Leather Protection Cream provides advanced barrier protection technology to help repel all oil and water-based stains from leather, helping to prevent the aforementioned problems from occurring.
The barrier applied to the leather will also hold general dirt and soiling on the leather's surface, making it much easier to clean and care for, with the added bonus of also stopping pen marks, clothing dye transfer, etc. from penetrating the leather's coating. This allows such staining to be cleaned off using the Leather Ultra Clean as opposed to needing specialist treatment.
The barrier also helps stop the dirt from abrading the leather; as you use leather you cause friction that slowly starts to wear the leather coating away. The protection cream acts a barrier between the leather and the dirt abrasions, helping to prevent premature wear and tear.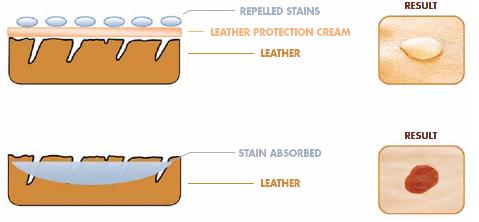 Here you can see how the protective barrier has held the liquid on the surface, whereas without the protection cream applied the liquid has soaked in causing a stain.
Leather Protection Cream is Suitable For
Leather Protection Cream can be used on all different articles of leather, from furniture and car interior to clothes, shoes, handbags, and even equestrian leathers. It works on all colours of leather and all different grain types.
Aniline and semi-aniline leather

Pigmented leather/ topcoat leather

Oil and wax pull-up leather

Two-tone and mottled leather

Rub-off/ antique finished leather

Bicast leather

Vinyl and faux leather, including bonded leather

Suede and nubuck
Leather Protection Cream's Coverage and Shelf Life
250ml Protection Cream is sufficient to:
Fully protect a three-piece suite 2-3 times.
Fully protect a large car interior 4-5 times.
For year-long, 100% protection, apply the product every 3 months.
Store in a cool dry place, away from direct sunlight.
Store between 8°C and 30°C.
Once opened, use within 3 years.
Leather Protector Instructions
Step 1
Shake the bottle well then apply the cream onto an Applicator Sponge. Do not apply directly onto the leather.
Step 2
Rub sparingly into the leather in a circular motion, ensuring all areas of leather are covered.
Step 3
Leave to dry and then buff over with a dry cloth. It is crucial to buff this product for best results.
Your leather will now be thoroughly protected. If you have aniline or pull-up style leather you should apply two coats of Leather Protection Cream for best results.
Note: Applying a little will match the sheen of your leather; if you apply more, it will enhance the shine on the leather. If you'd rather use a product to make your leather shine, use our Leather Polish.
Instructional Videos
Watch below how our leather protector repels all kinds of stains from leather.
Advantages
Advantages of using a Leather Protector
Conditions: Containing a natural blend of oils and waxes the Leather Protection Cream feeds and nourishes your leather, preventing it from drying out, cracking and fading.
Repels Stains: Added barrier protection technology allows the leather to repel oil and water-based stains, retaining them on the surface so the leather can be easily wiped clean.
Reduces Wear & Tear: When used, leather is abraded by clothing, which in the long term can cause cracking and peeling. The Leather Protection Cream absorbs the abrasions, acting as a protective barrier between the leather and its contact.
Re-Instates Aroma: The Leather Protection Cream is infused with a luxurious leather aroma, which is transferred into your leather when applied.
Reduces Fading: With added UV inhibitors the protection cream also helps prevent the leather from fading when in contact with direct sunlight.
Protecting Leather
Added barrier protection technology in the Leather Protection Cream allows the leather to repel oil and water based stains, retaining them on the surface so that the leather can be easily wiped clean. The images below show just how effective this barrier is in repelling water and oil-based spills.

The image on the right shows how the Leather Protection Cream has caused the liquid to bead up on the surface preventing it from causing a stain, whereas the image on the left shows that the liquid has completely soaked into the leather, making a simple spill far more difficult to tackle.
Liquid without Protection
Liquid with Protection Cream
Not only that, but it makes the leather easier to clean in the future. How? Because it stops dirt from being absorbed or becoming ingrained in the leather allowing you to wipe the dirt away easily.
Modern Leather - Why this product is ideal for it! - Most leather sold in shops and in all car interiors has a pigmented finish on it. This means that the leather is painted and then sealed with a lacquer. It is impossible to feed the leather because you cannot breach the surface and so the oils and waxes can't soak in. In these cases, it is not the leather that is drying out and cracking but the pigment on the surface.
Using a leather conditioner on such leathers will have no benefit, instead, you need a product that protects the finish. The Leather Protection Cream adds a protective layer to the leather that will protect the finish from all wear, tear and heat.
Leather Protector FAQ
Q. Does the Leather Protection Cream feed leather?
A. Yes, it contains natural oils and waxes which soak in and feed leather. However, only a few types of leather actually need feeding. These are unfinished leathers such as aniline and pull-up. The rest of the leather on the market contains a finish and so cannot be and do not need to be fed.
These leathers need their finish protected - this is what the Protection Cream does.
Q. Will the Protection Cream damage my leather?
A. No, it contains no solvents, abrasives or any other chemicals that can cause damage to your leather. It has the exact opposite effect: it helps prevent the leather from being damaged.
Q. Does the Leather Protection Cream prevent staining?
A. It helps repel stains, both oil and water based. Common ones are dye transfer from clothes, and juice or tea / coffee spills. It will prevent dye from being transferred and it will retain other stains on the surface so they can be easily wiped off.
Q. Will it make my leather slippery?
A. No. It will never make the leather slippery.
Q. Does the Protection Cream make leather shiny?
A. Once application will not, it will match the sheen your leather already has. If you want to make your leather shiny, just apply more coats and buff.
Q. I also have leather in my car, can it be used on that?
A. Yes, our Leather Protection Cream can be used on all articles of leather: furniture, car interiors, clothes. shoes, equine leather and many more.
Q. My door cards are vinyl, can it be used on those?
A. Yes, it can be used on any imitation leather such as vinyl, plastic, and PU.
Q. I have a natural (absorbent) leather. Is it safe to use?
A. Yes, it is excellent on these types of leather. Two applications are necessary as the first will be totally absorbed by the leather. It will stop the leather from absorbing stains, which it otherwise would do. It also lubricates the leather fibres preventing them from abrading one another and so will help stop your leather from wearing.
Q. Will it alter the appearance of the leather in anyway?
A. No. It matches the leathers natural appearance. It will not darken the leather or make it shine.
Leather Protection Cream
With advanced barrier technology this protection cream feeds, nourishes and protects leather whilst restoring the luxurious leather aroma.
Leather protector and conditioner in one - feeds, nourishes and protects

Creates an invisible barrier protection that repels liquids, dirt, and stains

Reinstates leather aroma

Helps slow down colour fade from sunlight

Suitable for all leather types and colours