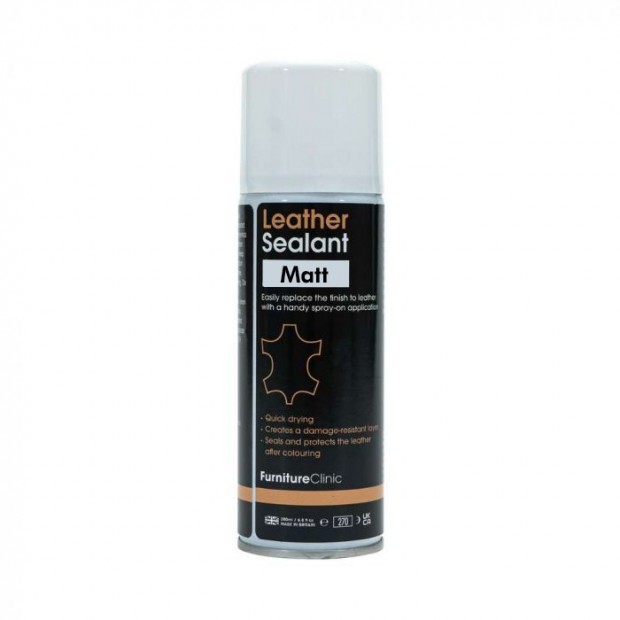 Quick drying and incredibly easy to apply, Leather Sealant is the perfect solution for a fast and effective application of a finish to your leather.
The solvent based formulation and aerosol application method make it an ideal solution for reducing the time required for each job and is particularly useful in situations with limited space or access to electricity.
In a handy 200ml sized can, it is a must-have product for any technician, enthusiast or hands-on DIYer.
Leather Sealant is Suitable For
Leather Sealant is suitable for use on all items of leather, it is ideal for use on;
Aniline & Semi-Aniline Leather

Pigmented Leather

Oil and Wax Pull Up Leather

Bi-cast Leather

Two Tone, Mottled & Antique Finished Leather

Suedu/NuBuck
Leather Sealant's Coverage and Shelf Life
Store in a cool, dry place with the lid fastened. Keep out of reach of children. Keep away from heat, hot surfaces, sparks, open flames and other ignition sources. Protect from sunlight. Do not expose to temperatures exceeding 50°C.
If stored in this manner Leather Sealant will last for years.
Leather Sealant is incredibly easy to use, see the instructions below:
Step 1
Shake the can vigorously for 2 minutes before use. (Important)
Step 2
Make sure the leather is clean and dry before application.
Step 3
Build up finish with 3 thin coats from a distance of 20cm, keep the can moving, leaving sufficient time to dry between coats. Drying time can be reduced with the use of a hairdryer.
Step 4
After use, invert the can and spray for a few seconds to prevent spray head from clogging and blocking.
Leather Sealant
Easily replace the finish to leather with a handy spray-on application. Creates a quick drying, robust, damage resistant layer that seals and protects the leather after applying Leather Colourant.