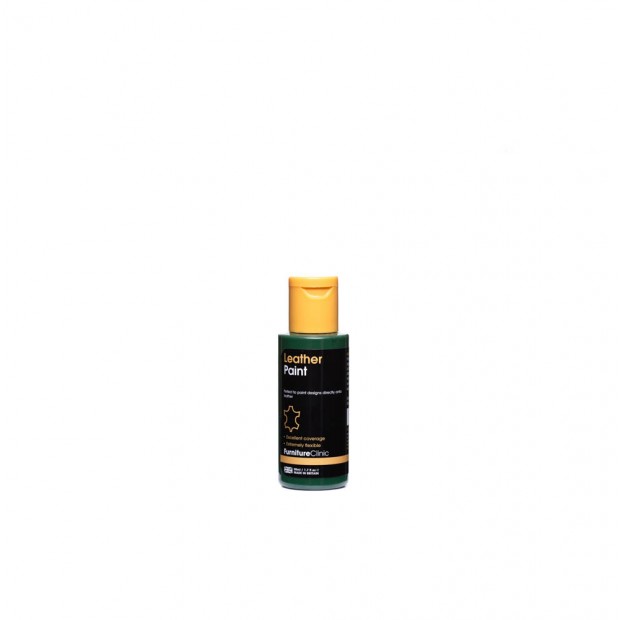 About Leather Paint
Our Leather Paint is a thick, water-based polyurethane paint used for painting creative designs on all leathers, vinyl and faux leather. Polyurethane paints are the most flexible type of leather paint available so it doesn't matter if you're painting a shoe, trainer, jacket or even a leather sofa, you can be sure to know that our Leather Paint will bend and flex with every crease and fold in the leather.
Day to day, we restore and change the colour of leather sofas. Our Leather Paint is an adaption of the products we use to do this which have been tried, tested and, more importantly, used for many years without failure.
Leather paint is primarily for producing creative designs on leather items, should you wish to restore colour, repair colour loss or damage to leather you will need to use one of our Leather Repair Products.
The Leather Paint self seals, so is scuff and scratch resistant without the need to apply any additional finish.
Leather Paint Set Options
You can buy the Leather Paint individually, or you can buy our sets of six or 12 colours. These sets contain;
Leather Paint 6: White, Black, Red, Yellow, Light Blue, Green
Leather Paint 12: White, Black, Red, Yellow, Light Blue, Dark Blue, Turqusoise, Green, Lime Green, Orange, Dark Brown, Medium Brown
Leather Paint is Suitable For
Leather Paint can be used on any leather item including; Furniture & upholstery, shoes, sneakers & all other footwear, handbags, car interiors, motorbike leathers, clothing and any other item made from leather!
The Leather Paint has excellent coverage, white leather paint will cover black leather in one application! Use it for;
Any item of leather, vinyl or faux leather

Painting custom creative designs or logos

You can even paint detailed scenes and pictures
Leather Paints Coverage and Shelf Life
125ml Leather Paint will cover 1m². This can vary depending on what colour you are using.
Store in a cool dry place, away from direct sunlight.
Store between 8°C and 30°C.
Once opened, use within 1 year.
Leather Paint Instructions
1 - Preparing the leather for painting
Wipe the leather down first with the Leather Prep. This will remove any grease, wax or silicone on the leather, preparing it properly for painting. It will also dull the finish. This step is not necessary if you are painting fabric or canvas.
2 - Painting Leather
Paint your design onto the leather using any one of our colours. The product can be applied by sponge, airbrush or paintbrush. The Leather Paint is used neat, but can be thinned with water if you want to spray it onto leather.
Once applied, leave the Leather Paint to dry naturally or dry it instantly with a hairdryer.
3 - Finishing after using Leather Paint
Our Leather Paint has built in Leather Finish so it is not necessary to apply any additional finishing coats. However, you may wish to apply either Leather Finish or our Natural Leather Finish if you want to alter the shine or feel.
Painting on Leather Example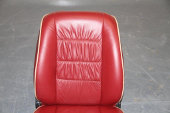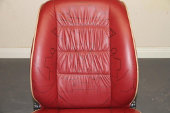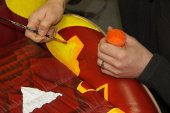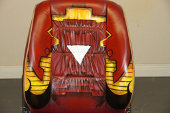 Instructional Videos
watch the video showing our leather paint for shoes on these white trainers
Customer Results using Leather Paint
Here are some photos of the amazing and creative work our customers have achieved using our Leather Paint.
Leather paint for shoes
Here we have painted these leather shoes using several colours of the leather paint.

Painted Leather Sofa
In this example the customer has used our Leather Paint to paint and extremely intricate design over this entire leather sofa. Our Leather Paint is based on the same leather restoration technology we use and so is extremely flexible and strong once applied. This has been done mainly using our black leather paint.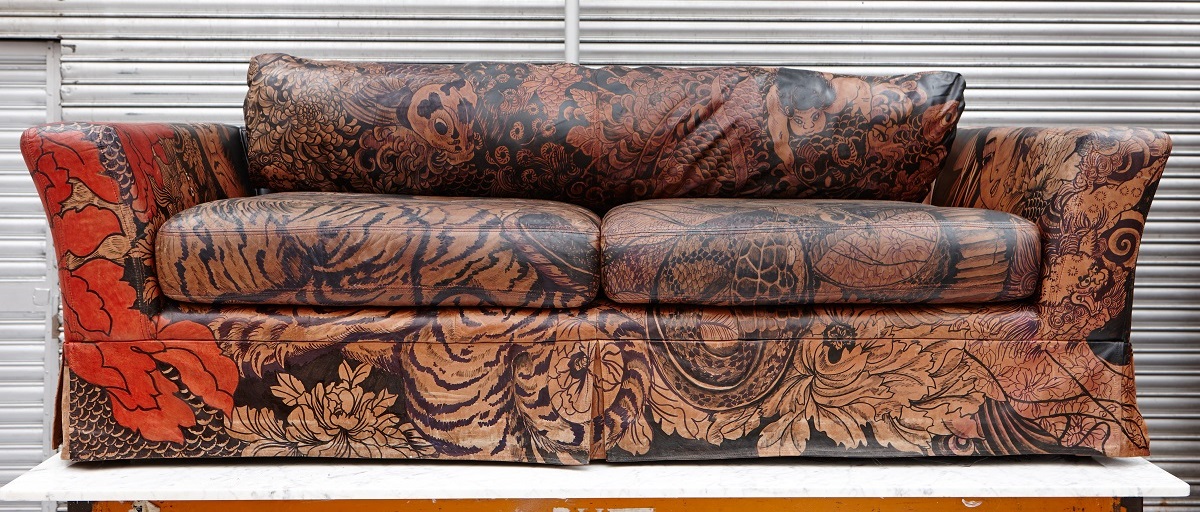 Leather Paint on a cap
This customer has painted the brown leather flap of this cap using our yellow purple and white leather paints.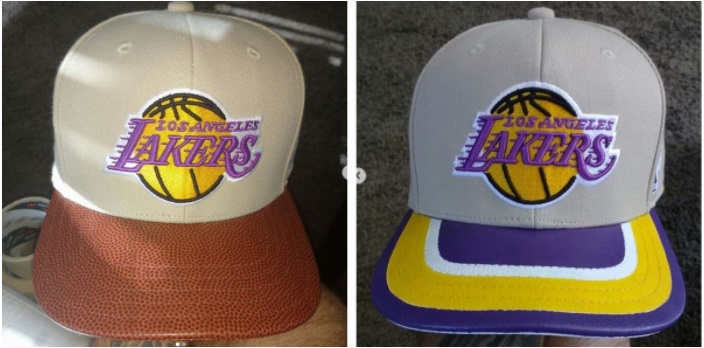 Painted Leather Satchel
This example shows a much smaller, but very detailed design that has been painted onto a leather satchel.
Painting a Porsche logo with Leather Paint
This photo is from a customer who had the Porsche logo re-painted onto his car seat after cleaning the original off with a cleaner that wasn't meant for leather!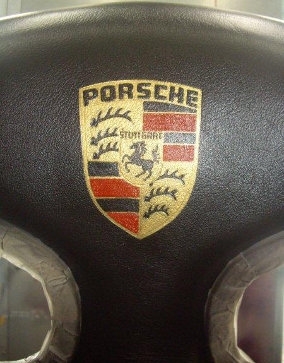 Colour Chart
Leather Paint Colour Chart
Our range of Leather Paints can be used as they come in one of the colours below, or the paints can be mixed together to achieve any colour of Leather Paint that you need.
Standard colours
C Black

C Dark Brown

C Medium Brown

C Red

C Orange

C Light Blue

C Dark Blue

C Turquoise

C Green

C Lime Green

C Yellow

C White
Custom Colours
Light Grey

Dark Grey

Charcoal

Mink

Sand

Navy

Slate

Clay

Tan

Light Tan

Spring

Sunflower

Golden Charm

Rose

Red Sole

Maroon

Blush

Candy

Lilac

Purple

Sky Blue

Azure Sky

Regal Blue

Hawaiian Blue

Steel

Bottle Green

Mint

Fresh Green

Olive

Petal Pink

Salmon

Champagne
Neon Colours
Our neon colours are great for those who want to stand out from the crowd.
Flash Yellow

Electric Green

Fuchsia

Disco Orange

Neon Blue
Note: To achieve a bright neon colour the leather must be white. If it isn't, you must first start by spraying over the original colour with white. Spraying on top of white gives a brilliantly bright neon colour, applying neon over any other base colour will result in a duller and darker look.
Metallic Colours
The metallic range adds an aspect of luxury to any item of footwear
Note: We supply three metallic colours: Copper, Silver and Gold. Each must be sprayed lightly on top of a base colour to achieve a suitable metallic effect. For example, if you spray gold on top of black you get a 'green gold' but if you spray it on top of a light brown you get a more typical gold gold'. So based on this you can actually achieve hundreds of shades of metallic colours using just these three.
Soft, flexible and extremely hard wearing product to paint on leather. Paint pictures and decorations on all leathers.
IMPORTANT: The colours shown here are dependent upon screen settings or monitor calibration, they are a guide only. The actual colour may vary.
FAQ - Painting on Leather
Q. Can it be used as a leather paint for shoes?
A. If you are looking to get creative and paint leather shoes, then yes, it is a great leather paint for shoes. If you need to restore or repair your shoes, then you're best using our Shoe Colouring Kit.
Q. Can I use Leather Paint to re-colour my leather sofa or car seat?
A. No, our Leather Paint has been specifically designed for painting design work on leather. You will not be able to achieve the results you want restoring leather with this product.
To re-colour or restore leather, you should use our Leather Balm.
Q. What is the best method of application?
A. This depends on the desired look you are trying to achieve. The Leather Paint can be applied by a paintbrush, sponge, or airbrush. We always recommend you go with what will work best with your design.
Q. Is it a leather sofa paint?
A. Yes, although Leather Paint has been formulated for use on all leather surfaces, notjust sofas. It is ideal for creating a design on furniture, car seats, upholstery, and clothing. Leather Paint has been specifically designed to be used on items of leather.
Q. I need a lot of colours for my design, can you provide them all?
A. Absolutely, for the creative amongst us we can provide a set of 12 standard colours, that when mixed and matched will cover every colour in the spectrum, allowing you to create any colour you could possibly need.
Q. Is it also a faux leather paint?
A. Yes, our leather paint can be used on faux leather, vinyl and all other types of imitation leather.
Q. Can it be used as a leather spray paint?
A. Yes, as shown in our video painting leather shoes, you can also use it as a leather spray paint by using our airbrush.
Q. How strong is the black leather paint?
A. Our black leather paint has great colour coverage and should only require one application to completely cover the colour beneath.
Q. Can you paint a leather sofa with the paint?
A. Yes, it can also be used as a leather sofa paint. This is to paint designs onto leather. If you need to repair the sofa, then use our Leather Repair Paint.
Q. Can you paint leather any colour?
A. Yes, using the leather paints you can paint any colour of leather, using any colour of leather paint. We have designed the paints to be very concentrated in colour too, so you can easily cover dark colours of leather using a lighter colour. i.e. you can cover black leather using our white leather paint.
Leather Paint
Leather paint is designed to paint designs onto all leathers
Extremely flexible; the leather paint will never crack, flake or peel

Excellent colour coverage: white leather paint covers black leather in one coat!

Applied by brush or sponge

Can be sprayed on as a leather spray paint

Soft, delicate and natural look & feel