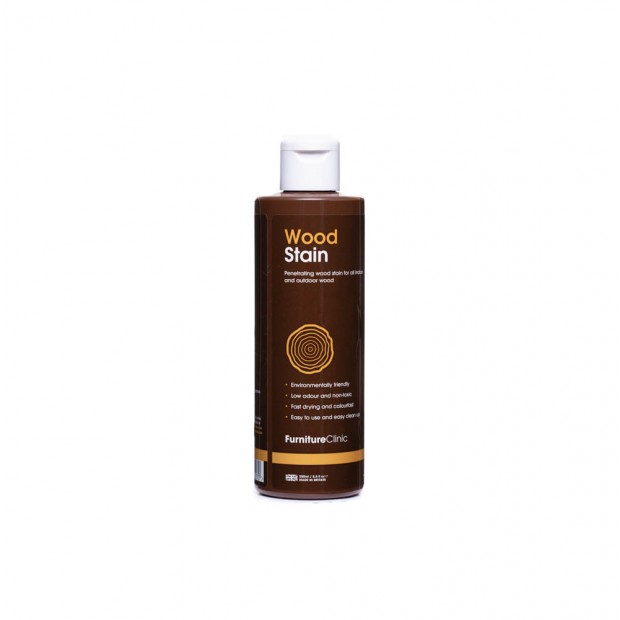 About Wood Stain
Use it to stain any type of wood for indoor or outdoor use.
A highly concentrated wood stain that stains wood in one simple application. The formulation is water-based and so is safe to use in all environments, has a very low odour and is non-toxic.
Our Wood Stain is specially formulated to evenly dye wood, ensuring equal and even colour penetration throughout. The stain dries to a natural matt finish in only 10 minutes and has excellent coverage.
Finishing wood after staining
After staining wood, you should finish the job by sealing the stain in with one of our Wood Waxes, Wood Varnishes or Wood Oils. These will enhance the colour of the stain further, provide additional protection and can be used to alter the finish to either satin or gloss. For everything all in one kit, use our Wood Stain Kit.
Wood Stain Options
You can buy a 30ml Tester pot of Wood Stain to see if it's the right colour for you. Or buy the Tester Kit that includes each colour of Wood Stain that we do.
Once you know the colour of Wood Stain you want, then you can order one of our regular size bottles ranging from 250ml - 5 Litres of Wood Stain.
Wood Stain is Suitable For
You can use Wood Stain on any wood, just make sure it has been thoroughly cleaned and any old finishes removed.
Wood Stain's Coverage and Shelf Life
1 Litre of Wood Stain will cover approximately 12m2.
Once open, use within three years.
Upgrade to the Wood Stain Kit
It is best to clean and prepare wood before staining, and once stained it should be protected. This kit contains everything you need for all your wood stain projects - Wood Stain Kit.
How to use Wood Stain
Preparing Wood for Staining
New Wood – Needs to be sanded first to create a lovely smooth finish. Sand first with 120g sandpaper, then with a #60 Coarse Sanding Pad (240g sandpaper), and again with #100 Fine Sanding Pad (320g sandpaper). This process will help even out the surface, creating a lovely smooth finish for the stain to absorb into.
Used Wood - If the wood is old, it may be painted or varnished. If so, remove any old coatings using a Paint & Varnish Remover. Or, if the wood has been treated with an oil or wax, wipe the surface down with Thinners or Mineral Spirit to remove this. After removing the old finish, sand smooth with #100 Fine Sanding Pad.
Pine & Softwoods – Once you have prepared the surface as above you should apply a Pre-Stain Conditioner. This is because softwoods absorb wood stains in an uneven fashion and could come out blotchy once stained.
In all instances, ensure the surface is clean and any saw dust or dirt has been removed.
Applying Wood Stain
If you are unsure of the colour, test it on an unseen area first. The stain can be applied with either a cloth, bristle brush, or for best results a Foam Brush. Apply the stain liberally going in the direction of the grain. Leave it to soak in for a minute or two and then wipe any excess of using a Lint Free Cloth.
The longer you leave the excess on the surface to soak in the deeper/richer the colour will appear. We therefore recommend removing it after only a minute or two and if it dries too light, you can apply another coat. However, if you apply too much and it dries too dark, it is much harder to sand, strip and then re-stain the wood!
After wiping off the excess, you'll need to wait for about 10 minutes for the stain to thoroughly dry. Once it's dry, a second coat can be applied if desired; applied in the same way as the first.
Finishing Wood after staining
After staining the wood, it should be finished with a varnish, oil or wax. The Wood Stain is colourfast once dry but by applying a finish you can:
Increase protection against water and staining.
Enhance the colour of the stain; an oil or wax will really bring out the colour.
Increase the shine of the wood.
Seal in the stain to help it age better.
The wood should then be maintained as per the instructions for your chosen finish.
Instructional Videos
The below videos show you how to use our wood stains to stain wood.
Customer Results using our Wood Stain
The below photos have all be sent to us by customers when they have reviewed our Wood Stain.
Pine Table Stained
This was stained using our Antique Pine Wood Stain.

Staining a Table Dark Oak
This table, made from Pine, has been stained using our Dark Oak Wood Stain. You can see the customer is also in the process of applying a Beeswax Polish to seal the stain.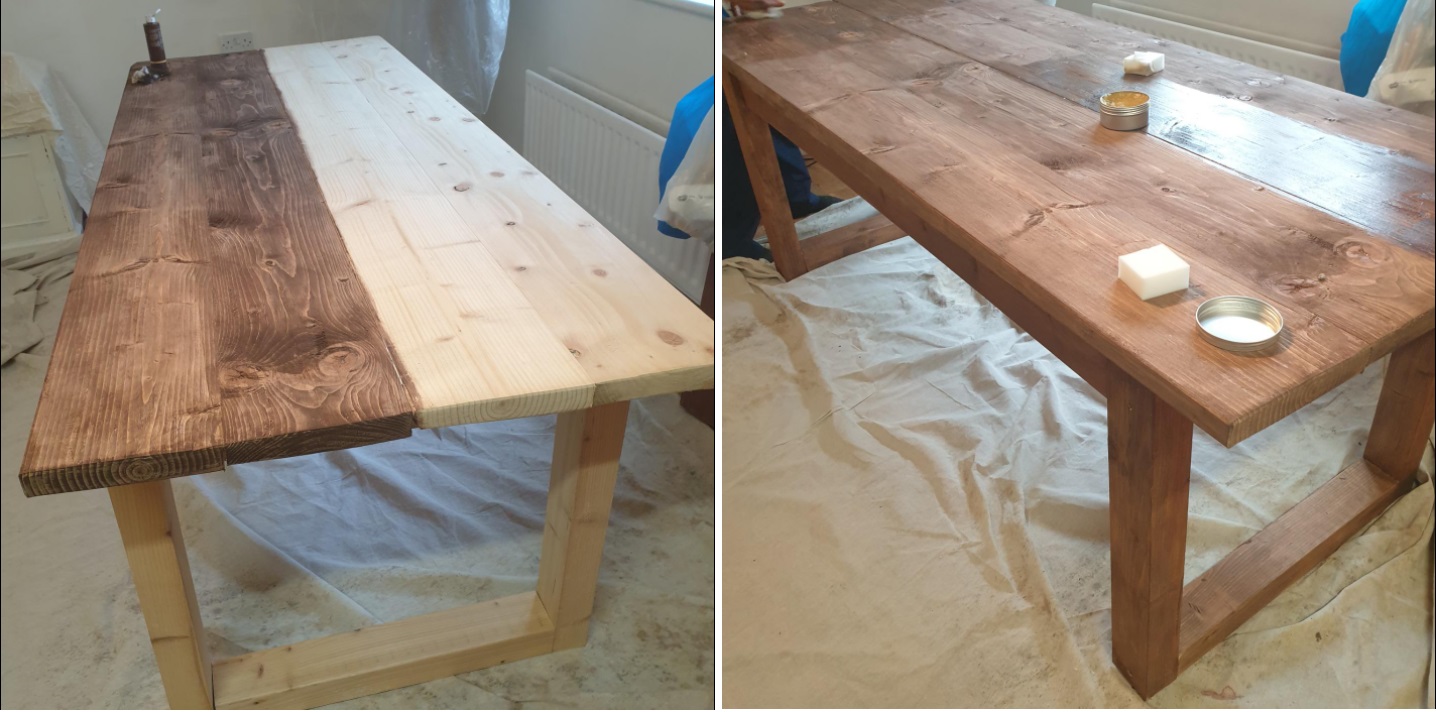 Using Natural Oak Wood Stain
The below side table has been stained using our Natural Oak Wood Stain.

Kitchen Unit Stained Dark Oak
The below Kitchen unit has been stained using our Dark Oak Wood Stain.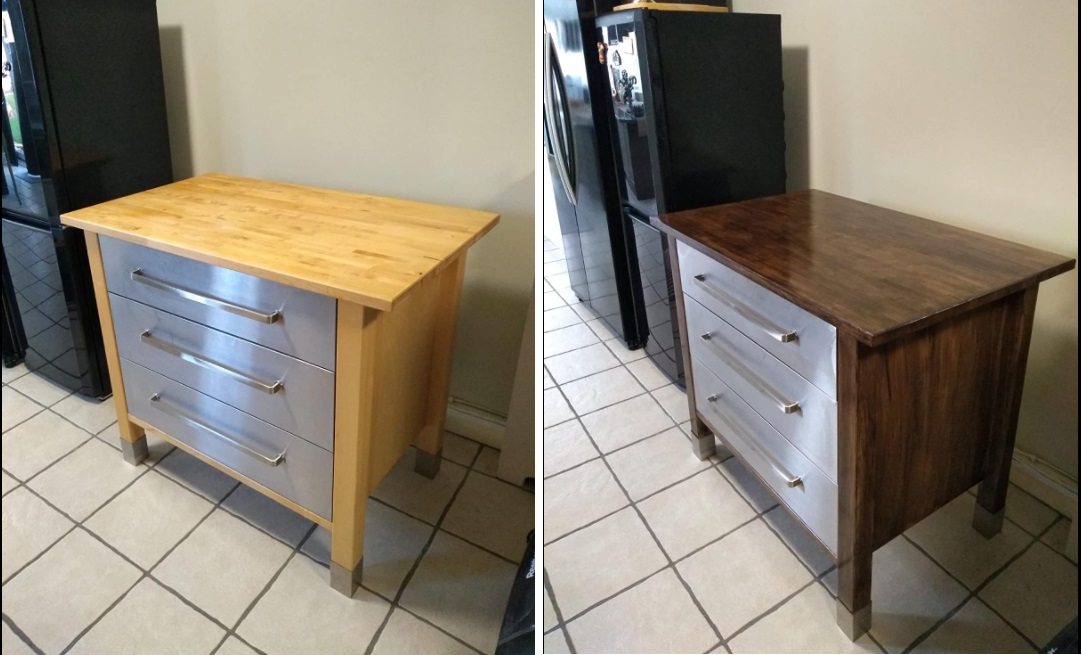 Black Wood Stain on a new table
A furniture maker who uses our wood stains shared this photo of a table he stained black. The overall look was achieved with our Black Wood Stain and the table was finish with our Interior Wood Varnish in matt.

Table restored using Natural Oak
This customer restored their table by staining it with our Natural Oak Wood Stain.

Colour Chart
Our Wood Stain is available in nine popular wood stain colours. If you don't see the colour you want listed below, you can also mix the different colours of stain together to achieve any colour of Wood Stain you need.
Antique Pine

Black

Dark Oak

Mahogany

Natural Oak

Rosewood

Teak

Walnut

White Ash
Our best-selling colours are dark oak wood stain and natural oak wood stain. Any colour can be lightened by adding in some of our white wood stain, or darkened by adding black wood stain or anyone of our dark wood stains.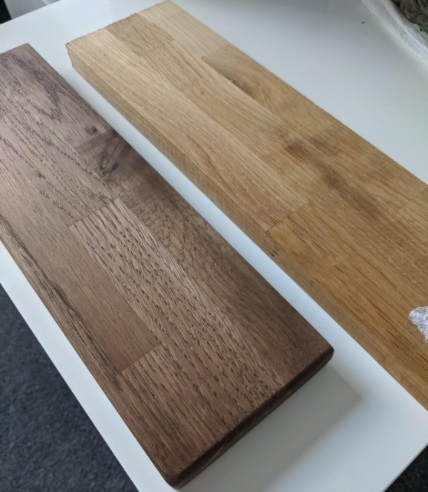 This photo shows a solid piece of oak (right) in its natural state.
The piece on the left has been stained using our Dark Oak Wood Stain.
IMPORTANT: The colours shown here are dependent upon screen settings or monitor calibration, they are a guide only. The actual colour may vary.
FAQ - How to Stain Wood
Q. What is the best way to apply Wood Stain?
A. When staining wood you can use a bristle brush, cloth or for best results use a Foam Brush. Application is simple, just wipe it over the surface and the stain will be absorbed by the wood. If you want to know how to stain wood, then watch one of our videos on this page.
Q. How do you prepare wood for staining?
A. If the surface is dirty clean it first with a suitable Wood Cleaner. Otherwise, sand it with #100 Sanding Pad in the direction of the grain. If the wood is freshly sawn, you may need to start with something more coarse such as 120g sandpaper and work your way up with the Sanding Pads.
Q. Can you stain wood without sanding?
A. Yes you can. Our Wood Stain has been designed to deeply penetrate all wooden surfaces. However, you'll always get best results by giving the wood a light sand first with #100 Sanding Pads.
Q. How long does it take Wood Stain to dry?
A. Our Wood Stain is a quick drying stain, taking only 10 minutes to thoroughly dry. Once dry, the wood can be stained with a second application if desired.
Q. How long should stain sit before wiping?
A. We recommend leaving the stain to soak into the wood for one or two minutes before wiping the excess off. This will prevent the stain from staining the wood too dark; you can then apply a second application of Wood Stain if you want to darken the wood further.
Q. What happens if you don't wipe the stain off?
A. Wood Stain is designed to penetrate into the wood and so the longer you leave it on the more it will soak in and the darker the wood will become. Wood can also only absorb so much stain before it becomes saturated and so any excess would then dry on the surface. This is why we recommend wiping the stain off after one or two minutes.
Q. Does wood need to be sealed after staining?
A. Sealing wood after staining isn't required, but it is recommended. Not only do wood finishes enhance the colour but they'll also protect the wood from scratches and help stop it from fading. We recommend using a Wood Varnish.
Q. Do you sand after staining wood?
A. You shouldn't sand wood after you've applied a Wood Stain. The wood should be sanded prior to staining. If the wood stain raises the grain of the wood, you can sand the wood and then restain.
Q. How many wood stain colours do you have?
A. We have a selection of nine different wood stain colours. From popular dark wood colours like dark oak and black wood stain, to lighter colours such as teak, natural oak and white ash.
Q. Is it an interior wood stain?
A. Yes, our wood stain can be used on all interior wood. It can also be used on exterior wood too.
Wood Stain
Our Wood Stain is a highly concentrated stain used for staining both old and new wooden surfaces.
Environmentally friendly

Low odour & completely non-toxic

Fast drying

Easy to apply

Available in 9 wood stain colours

30ml Tester and Tester Kit available