About Wood Floor Cleaner
Our Wood Floor Cleaner is a super concentrated cleaner for all types of wooden flooring. When diluted with water, the 500ml bottle makes 5 litres of ready to use wood floor cleaner that will clean an enormous 1000 square meters of flooring! The average room size is 16 square meters, which means our product will clean a room this size 61 times!
The cleaner has been developed after years of R&D to ensure it cleans all types of wooden floors safely, yet still cleans them thoroughly with ease. Our Wood Floor Cleaner is water-based, so is safe to use around people and pets, and dries quickly to a streak free finish.
It contains orange oil to help keep wood hydrated, and the wonderful orange aroma fills the air as you clean your wood flooring.
Wood Floor Cleaner Features
Drying Time: 10 minutes
Coverage: 1000m2 per 500ml
Maintenance: As required
Application: Apply with a Microfibre Mop.
Wood Floor Cleaner is Suitable For
Our Wood Floor Cleaner can be safely used on all types of wood such as Oak, Beech, Maple, Walnut etc and can be used on all types of wooden flooring:
Hardwood & softwood floors
Solid wood floors
Engineered wood floors
Parquet floors
Oiled wood floors
Waxed wood floors
Lacquered and varnished wood floors
Unfinished wood floors
Wood Floor Cleaner Coverage and Shelf Life
Size: 500ml.
500ml Wood Floor Cleaner dilutes to makes 5 litres.
This will clean 1000sqm of wooden flooring.
Wood Floor Cleaner Instructions
For best results, and to get maximum coverage when cleaning wooden flooring, use in conjunction with our Spray Mop. Dilute the Wood Floor Cleaner with water at a ratio of 9:1 (water:cleaner), if using the spray mop use 450ml water and 50ml cleaner to fill the reservoir.
The cleaner can also be mixed and used with a traditional mop and bucket, but you will get better coverage and minimise over wetting the floor if using a spray mop.
For dirtier floors, stains, or to infuse the product's wonderful orange aroma into the room, you can increase the amount of cleaner used up to a ratio of 1:1.
Once cleaned, the cleaner evaporates quickly to leave your wooden floor dry and streak free. Within about 15 minutes depending on the humidity.
Using Wood Floor Cleaner - step by step
Be careful when cleaning wooden floors not to wet the floor too much. Over wetting the floor can cause the wood to swell at the joints, which can then result in splits and gaps in the floor; or water damage (darkening of the wood) along the joints.
This is why we strongly recommend to always clean wooden floors using the Spray Mop. The mop sprays a controlled amount of Wood Floor Cleaner onto the floor, so you never need to worry about causing any damage.
Fill the container on the Mop with Wood Floor Cleaner (mixed 9:1 with water) and spray the cleaner onto the floor. Push the mop though the cleaner and the microfibre mop head will absorb the liquid and dirt from the floor. Repeat this process cleaning the entire floor; always spray then mop as you go.
Once you've finished cleaning the floor, leave the floor to dry for about 15 minutes and you'll be left with a lovely clean, and streak free finish to the floor. You should then protect the floor using either our Wood Floor Polish, or Maintenance Oil (for oiled, or UV oiled flooring).
Instructional Videos
This video shows you how to clean and protect an oiled wood floor. The instructions using the Wood Floor Cleaner are the same for all types of wooden flooring.
Wood Floor Cleaner Photos
Our Wood Floor Cleaner can be used to safely clean all types of wooden flooring. Below are some photos of wooden floors that have been cleaned using our Wood Floor Cleaner.
Lacquered wooden floor cleaning
The below photo shows a dark oak wooden floor, with a lacquered finish, that has been cleaned using our Wood Floor Cleaner. After cleaning, we then used the Wood Floor Polish to enhance and protect the wood.

Parquet Floor Cleaning
The photo below is of a natural oak parquet floor with an oiled finish. The floor is in the process of being cleaned using our Wood Floor Cleaner.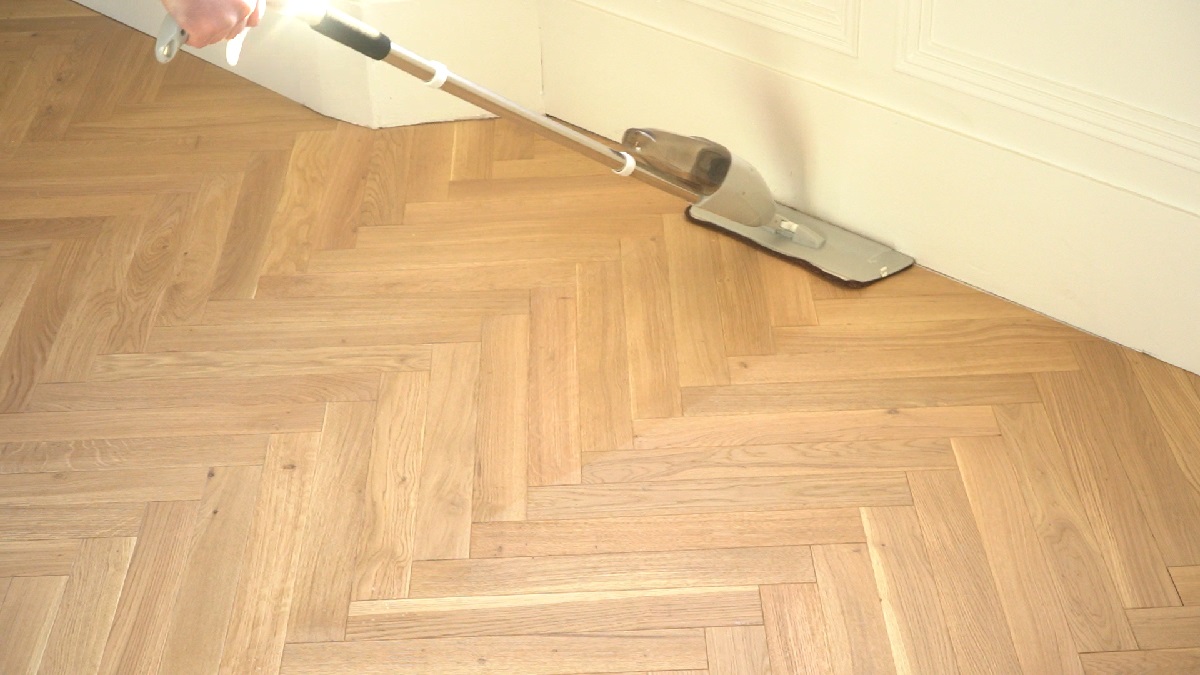 Wood Floor Cleaner FAQ
Q. Can it be used to clean a hardwood floor?
A. Yes, it is a great hardwood floor cleaner, and can be used to clean any type of wood flooring whether it is solid wood or engineered board.
Q. Can it be used to clean a laminate wood floor?
A. Whilst it could be used to clean laminate flooring, we actually have a specially designed Laminate Floor Cleaner.
Q. Is it an oiled wood floor cleaner?
A. Yes, it can be used to safely clean oiled wood flooring with great results. It will clean all types of wood floor finishes too, such as; waxed, lacquered, varnished and unfinished wood.
Q. How much cleaner should I apply to my wooden floor?
A. When cleaning a wooden floor it is important not to soak the wood. If using a mop and bucket be sure to wring out the mop so it is not dripping wet.
Then when you're wiping the floor you just want the surface to be dampened with cleaner so you can see it glisten.
Q. Will the Wood Floor Cleaner make my floor shiny?
A. No, it doesn't make the floor shiny or matt. It cleans the floor and then evaporates, leaving the floor's original finish. If you want to give your wood a shine, then use our Wood Floor Polish afterwards.
Wood Floor Cleaner
Specialist wood floor cleaner for use on all hardwood floors
Dilutes to make 5 litres
Super Concentrate – Covers 1000m2 flooring
Quick drying – streak and residue free clean
Water-based – safe for people and pets
For unfinished, waxed, oiled, varnished and lacquered wood