About Exterior Wood Stain
Our exterior wood stain has been developed for staining all types of wood used outdoors. It is based on the same technology as our regular Wood Stain, but is made a little thicker to suit exterior wood. This means it can also be used on interior wood too (if you prefer one of our exterior wood stain colours).
It is a great garden furniture wood stain, and can also be used to stain windows, doors, cladding and all other items of exterior wood.
After using the Exterior Wood Stain, we recommend treating the wood with Teak Oil. This will help protect the wood and keep it looking newer for longer.
Exterior Wood Stain is Suitable For
Our Exterior Wood Stain can be used on all types of exterior wood (such as oak, pine and teak), and can be used on items of wood, such as:
Garden Furniture

Windows

Doors

Cladding
Exterior Wood Stain Coverage and Shelf Life
Coverage: 13m2 per litre.
Store between 8°C and 30°C.
Once opened, use within 1 year.
Exterior Wood Stain Instructions
The Exterior Wood Stain can be used to stain new wood, and it can also be used to restore older wood. You must first prepare the wood, and then stain it.
Preparation for staining
New Wood: If you have a new(ish) item, it is probably ready to stain without doing anything. However, some wood can be treated, so it is best to sand it with a #100 Fine Sanding Pad before applying any stain.
Bare Wood: Needs to be sanded first to create a smooth finish. Sand with 120 grit sandpaper, then with #60 Coarse Sanding Pad, then #100 Fine Sanding Pad or equivalent sandpaper.
Used Wood: May be painted/varnished. If so, remove any old coatings using a Paint & Varnish Remover. If the wood has been treated with an oil/wax, wipe the surface down with Thinners to remove this. Sand smooth with #100 Fine Sanding Pad.
Applying Exterior Wood Stain
Ensure the surface is clean and any saw dust or dirt has been removed.
Shake the bottle thoroughly to mix the stain. If you are unsure of the colour, test it on an unseen area first.
Apply with a Lint Free Cloth, Foam Brush or bristle brush. Apply liberally, going in the direction of the grain; leave it to soak in for a minute, then wipe any excess off using a Lint Free Cloth.
Lots of wood used outdoors, such as garden furniture, doesn't always have a smooth finish like interior wood. If this is the case, you're best using a bristle brush to apply the wood stain.
Wait for about 10 minutes for the stain to dry. Once dry, a second coat can be applied if desired; apply in the same way as the first.
After staining the wood, it should be finished with a varnish or oil. We recommend Teak Oil for outdoor use.
Once dry the stain is water resistant and it won't be affected by rain. It should be dry within 10 minutes but we recommend waiting at least 30 minutes before exposing it to any water.
Instructional Videos
Learn how to use our exterior wood stain with our helpful videos.
Exterior Wood Stain Photos
This bench has been fully restored and stained using our Exterior Wood Stain in the colour velvet.

Colour Chart
Our Exterior Wood Stain is available in 28 popular exterior wood stain colours. If you don't see the colour you want listed below, you can also mix the different colours of stain together to achieve any colour of Exterior Wood Stain you need.
Exterior Wood Stain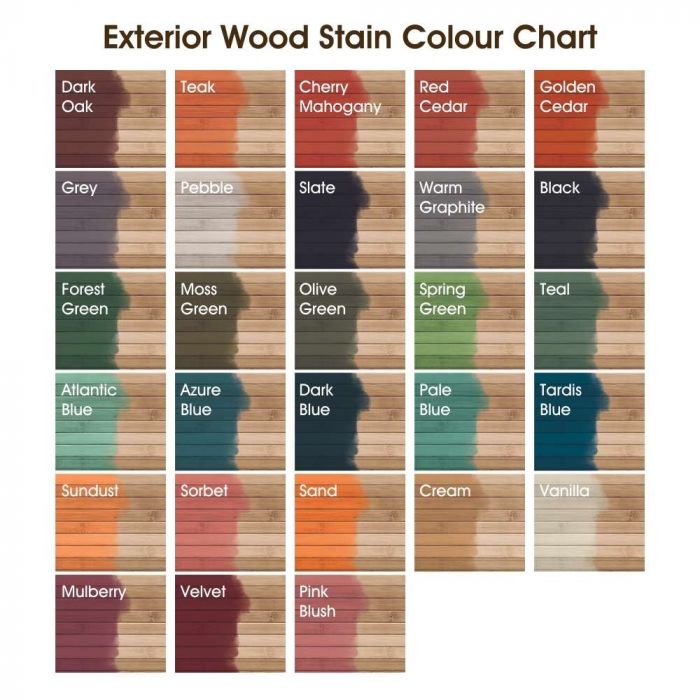 IMPORTANT: The colours shown here are dependent upon screen settings or monitor calibration, they are a guide only. The actual colour may vary.
Exterior Wood Stain – FAQ
Q. Can it be used to stain garden furniture?
A. Yes, it is a great garden furniture stain. It can be used to stain benches, tables, chairs and all other items of outdoor garden furniture.
Q. How long do you need to wait before using the wood after staining it?
A. The stain only takes 10 minutes to dry, but we recommend waiting 30 minutes before using the wood or exposing it to rain.
Q. Can it be used to stain teak wood?
A. Yes, it is a great teak wood stain, as well as being suitable for staining all other types of wood. Teak is commonly used outdoors as it weathers very well, and for a great maintenance regime, use it in conjunction with our Teak Oil.
Q. Can you use exterior wood stain indoors?
A. Yes. Although it has been designed for use outdoors, it is still perfectly fine to use on indoor wood. So if you prefer a colour of our Exterior Wood Stain (that isn't available in our normal Wood Stain range), you're fine to use this on your interior wood.
Q. Do you have a clear exterior wood stain?
A. The stains in this range are designed to change the colour of wood. If you want a clear finish to protect outdoor wood, then you should use our Teak Oil.
Exterior Wood Stain
Concentrated exterior wood stain to stain new wood, or restore old wood
Fast drying & easy to apply
Environmentally friendly
Low odour & non-toxic
Excellent coverage
Rain proof within 30 minutes