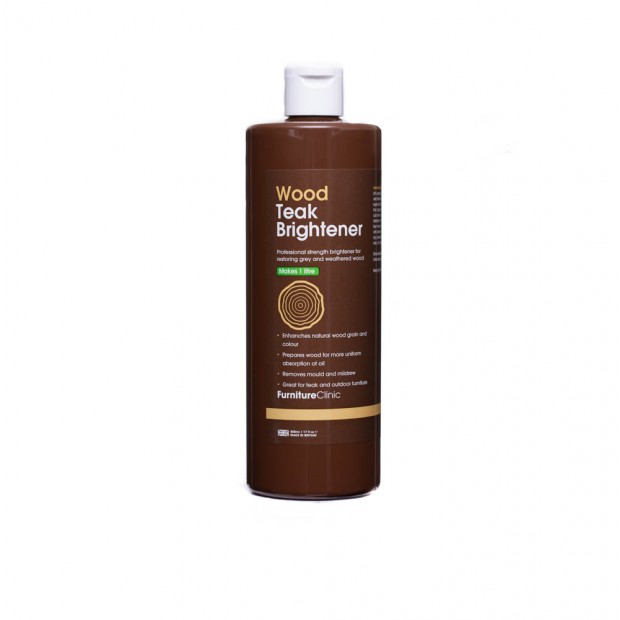 About Teak Brightener
Our Teak Brightener is supplied concentrated and can be mixed with water at a ratio of 1:1 to create 1 litre of ready to use, professional strength brightening solution.
This product is needed for older, worn, grey and weathered teak. It will further enhance the natural beauty and colour of all types of teak after using our Teak Cleaner. After cleaning, the brightener acts to lighten old, blemished teak, enhancing its overall appearance and preparing it for further treatment with Teak Oil as required.
If your teak is in good condition and/or only slightly weathered, then the cleaner alone should be sufficient.
If you want the complete kit to restore and maintain your wood, try our Garden Furniture Restoration Kit.
Teak Brightener is Suitable For
Our Teak Brightener can be used on any outdoor item of wood. It is not just used on teak but is suitable for all hardwood and exotic woods.
Garden Furniture

Marine Teak and decks

Untreated, unfinished and bare wood
Teak Brightener's Coverage and Shelf Life
500ml of concentrated Teak Brightener, when diluted as per instructions, will clean up to 72m2 of teak.
The product will last many years if stored at room temperature. Once open, use within one year.
If you want to restore old, grey and weather teak furniture you should use our Garden Furniture Restoration Kit. This includes our Teak Cleaner, Teak Brightener, Teak Oil and all accessories needed to give you the best results.
Preparation
Before applying the Teak Brightener ensure the teak has been fully cleaned using our Teak Cleaner.
Application
Shake the bottle well before use. Put on protective gloves
Mix the Teak Brightener into a bucket of water at a ratio of 1:1. Apply to a clean, lint-free cloth and rub into the teak following the direction of the grain. Leave for a few minutes and then rinse the teak down with clean water.
As you apply the product you will notice more of the original teak colour re-appearing in the wood.
Maintenance
After cleaning you should maintain the wood by applying our Teak Oil.
Teak Brightener
A concentrated, professional strength brightener to restore and enhance the colour to all items of grey and weathered teak.
Removes mould, mildew and other stains

Reverses effects of weathering, restoring the natural colour

Enhances the natural wood grain and colour

A 500ml bottle makes 1 litre of Teak Brightener when dilute

Great for marine teak and garden furniture

Prepares the wood for a more uniform absorption of oil