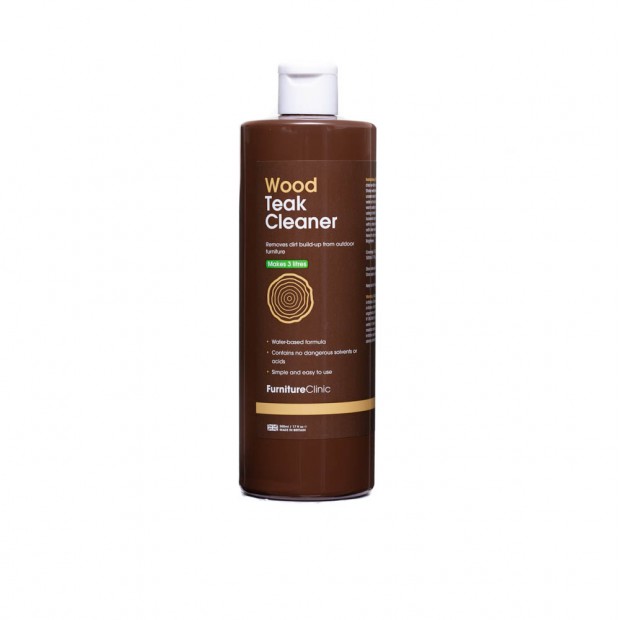 About Teak Cleaner
Our Teak Cleaner is supplied in concentrate that is diluted with water at a ratio of 1:5. Simply mix it in a bucket and then clean your teak or furniture. A 500ml bottle makes 3 litres of ready to use Teak Cleaner so this small bottle will last a long time.
This cleaner is an ideal solution for cleaning all types of garden furniture, marine decks and teak used in any environment. It is quick acting and will revive the natural colour of old, weathered and mould stained wood.
The Teak Cleaner is specially designed to kill mould and mildew and remove the build-up of dirt and grime from wooden outdoor furniture and all teak surfaces. If you want the complete kit to restore and maintain your teak, try our Garden Furniture Restoration Kit.
Teak Cleaner is Suitable For
Our Teak Cleaner can be used on any outdoor wood where it is effective in removing dirt, weathering and mould staining. It is not just suitable for use on teak but also for all hardwood and exotic woods.
Garden furniture

Marine teak and decks

Untreated, unfinished and bare wood.
Teak Cleaner's Coverage and Shelf Life
500ml bottle of concentrated cleaner, when diluted as per instructions, will clean up to 72m2 of teak.
The product will last many years when stored at room temperature and has a useable life of three years once opened.
Teak Cleaner Instructions
If you want to restore old, grey and weathered teak furniture you should use our Garden Furniture Restoration Kit. This includes our Teak Cleaner, Teak Brightener, Teak Oil and all accessories needed to give you the best results.
Preparation
Before applying the Teak Cleaner remove any loose dirt or mud with a brush.
Shake the bottle well before use.
Mix the cleaner into a bucket of warm water at a ratio of 1:5 (1 part Teak Cleaner to 5 parts warm water).
Application
Dip a scrubbing brush into the mixture and scrub the surface to loosen any dirt and grime. Wipe the teak down using a clean, lint-free cloth.
You'll notice that as you're cleaning the teak the original colour will be restored as the cleaner removes the grey, weathered look from the wood.
Rinse the wood with clean water to remove any excess Teak Cleaner.
Maintenance
After cleaning you should maintain the wood by applying our Teak Oil. If the Teak is heavily stained, darkened or weathered you may also want to use our Teak Brightener to further restore the original colour before applying oil.
Teak Cleaner
A brilliant garden furniture cleaner used to clean and revive the colour of all exterior wood
Specialist cleaning foumula for all items of teak

500ml bottle provides 3 litres of cleaner when diluted

Removes mould, mildew and other staining

Reverses effects of weathering, restoring the natural colour

Water-based, safe to use formula

Great for marine teak