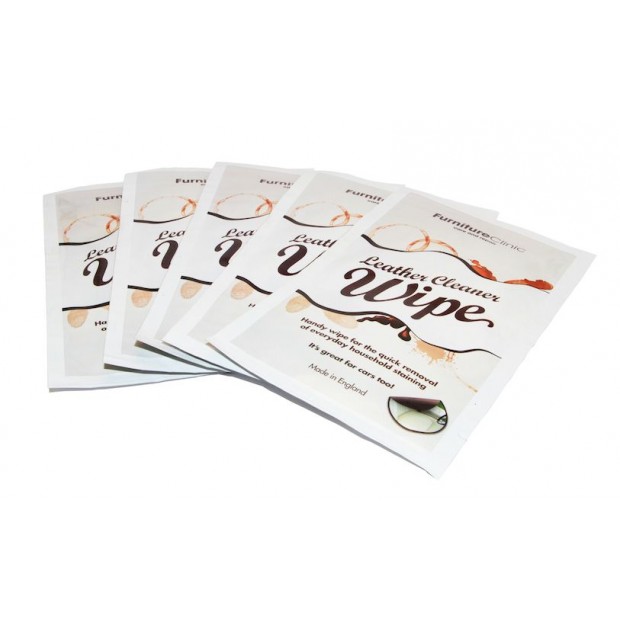 About Leather Wipes
Our handy leather cleaning wipes have been designed to be a fast, effective solution for general leather cleaning & maintenance and the quick removal of everyday household staining caused by sticky fingers, drinks, chocolate, food and many more common stains.
The wipes should be used in conjunction with regular cleaning & protection of your leather with the Leather Care Kit, following the Four Seasons Leather Care Plan.
Leather Wipes is Suitable For
Leather Wipes are ideal for cleaning leather car interiors, leather furniture, leather handbags, clothes, shoes, equestrian leather, motorbike leathers – pretty much any item made from leather!
Our wipes can be used on all types and all colours of leather. They work brilliantly on finished and unfinished leather, such as:
Aniline & Semi-Aniline Leather

Pigmented Leather

Oil & Wax Pull-Up Leather

Bicast Leather

Two-Tone, Mottled & Antique Finished Leather
Leather Wipes' Coverage and Shelf Life
One wipe will clean the area of the average size armchair!
Our Leather Cleaner Wipes are individually sealed and treated to last 10 years.
Leather Wipes Instructions
Step 1.

Clean the leather in a circular motion, turning the wipe as it becomes dirty.

Step 2.

Repeat the application once a week to keep the surface free of dirt & grime. Regular maintenance will help reduce the build-up of surface contaminant prolonging the lifespan of your leather item.
Leather Wipes
Reliable and easy to use, these wipes are perfect to fit in a bag, or for easy access around the home when disaster strikes. Individually packed & sealed Leather wipes:
Will last 10 years without drying out or going off

Are brilliant for quickly wiping down furniture, car interiors and handbags

Can be used to remove everyday household staining & marks