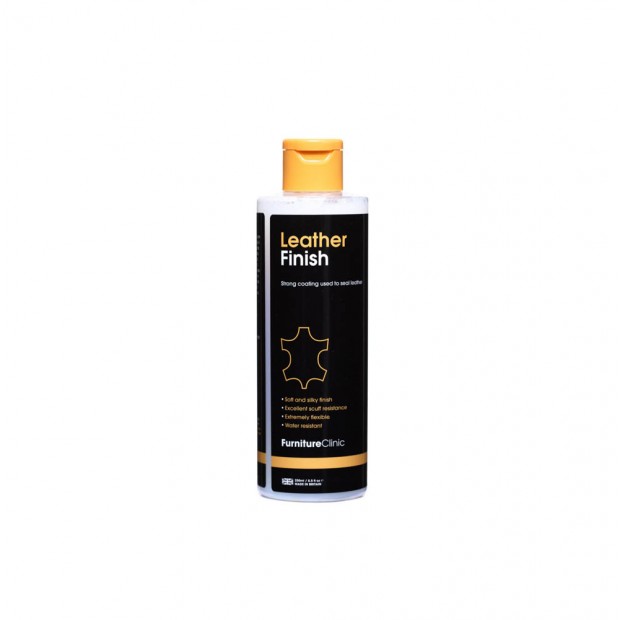 About Leather Finish
The Leather Finish is water-based and so is non-hazardous and non-flammable. The Finish is extremely hard wearing and long lasting. It's a clear thin liquid that is easy to apply and offers superior scuff and scratch resistance compared to standard leather finishes.
Very Hard Wearing - Seals colour in and keeps it there!
High flexibility & soft natural touch.
Clear finish available in matt, satin, and gloss.
Water Based - Non-Hazardous and Non-Flammable.
Scuff and scratch resistant.
The Finish has been designed to seal the colour in after applying Colourant to a leather surface. The finish far exceeds standard lacquers in both wet & dry rub fastness so you can be sure your colour is thoroughly sealed in. It also feels soft and natural on the leather, therefore it does not make the leather feel like plastic or artificial in any way. In fact, it further adds and improves the touch and texture on leather, as it has a very smooth, soft and silky feel, very natural and very appealing to customers.
Ideal for manufacturers of antique finished leathers. Apply the finish after rubbing off the colour for long-lasting protection.
Perfect to seal in colour after making a repair.
Available ready to use. Just spray it on.
A must in the automotive industry where rub fastness is crucial. This product will greatly increase the leathers life span.
Leather Finish is Suitable For
Leather Finish can be used on all types of leather and on all items of leather such as furniture, car interiors and fashion
Aniline and Semi-Aniline Leather

Pigmented Leather

Two Tone, Mottled and Antique Finished Leather

Oil and Wax Pull Up Leather

Bi-cast Leather

Vinyl and Faux Leather, including Bonded Leather

Suede/Nubuck
Leather Finish's Coverage and Shelf Life
6m2 per litre
Store in a cool dry place, away from direct sunlight.
Store between 8°C and 30°C.
Once opened, use within 1 year.
Q. What leathers can the Finish be used on?
A. Our Finishes can be used on all leather types and colour, except for suede and nubuck. It is also safe to use them on vinyl and faux leather, including bonded leather.
Q. I want to change the shine of my leather; can I use this?
A. Yes, the Leather Finish is available in matt, semi-matt, satin, semi-gloss and gloss, so if your leather is looking a bit dull, you can put some life back into it by adding a gloss finish, or if you prefer a matt finish, you should apply the matt, or semi-matt to kill the shine.
We would recommend using our Leather Finish Kit for this.
Q. Will this rub off onto my clothes?
A. No, once the finish has dried it is completely rub resistant and will not rub off onto your clothes. It will also stop the colour from rubbing off onto your clothes too.
Q. My leather is fine, other than the shine has gone. Can I just re-apply the finish?
A. Yes, however before applying the new finish, you should thoroughly clean your leather first using our Leather Cleaner as this will allow the new finish to adhere properly to the leather.
To restore the shine we would recommend using our Leather Finish Kit.
Q. Can I clean and maintain my leather as normal after applying the Leather Finish?
A. Yes, once the finish has completely cured (seven days) you can continue to clean and protect the leather as normal. We recommend our Leather Care Kit for this, which provides powerful cleaning and protection for all leather items.
Q. What if the shine of my item is not covered in the range you offer?
A. The range of finishes we have cover a wide spectrum of shines making it easy for a DIY project, however for the perfectionist; all the finishes are compatible with one another, therefore you can mix the matt and gloss together in specific ratios to perfectly match your shine.
Leather Finish
An extremely flexible lacquer used for sealing in colour.
Soft and silky finish

Excellent scuff resistance

Extremely flexible

Water resistant