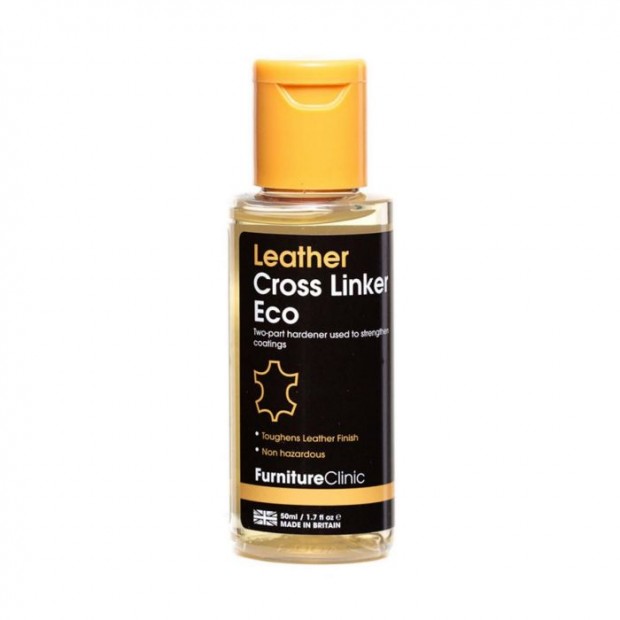 About Crosslinker Eco
Crosslinker Eco is a two-part hardener used to strengthen polyurethane coatings. It is a fast curing, ready-to-use, waterborne activated crosslinking agent.
Specially formulated to be completely non-hazardous, the addition of this complex molecule is used to enhance the physical properties of polyurethane coatings. When mixed with Leather Finish, Crosslinker Eco reacts quickly, creating a chemical reaction with the coating to remove the water content and any impurities which greatly improves the curing time of the finish. At this stage, the Crosslinker then proceeds to form a chemical bond between the molecules in the coating, creating a much tougher and harder wearing finish.

Finish with Cross Linker

Finish without Cross Linker
The diagrams above show how the addition of Crosslinker Eco to the coating changes the bonds formed during the curing process and produces a finish with superior strength and durability. Not only does this significantly improve the rub fastness of the leather, it also has increased resistance to perspiration, grease and oil.
Crosslinker Eco is Suitable For
Crosslinker Eco can be used on all different articles of leather, from furniture and car interiors to clothes, shoes, handbags and even equestrian leathers. Crosslinker Eco is an additive to the Leather Finish where a more robust finish is required. It can be used anywhere Leather Finish is normally applied. It works on all colours of leather and all different grain types.
Aniline and semi-aniline leather

Pigmented leather

Oil and wax pull-up leather

Bicast leather

Two-tone, mottled and Antique Finished leather
Crosslinker Eco Coverage and Shelf Life
Store in a cool dry place, away from direct sunlight.
Store between 5°C and 30°C.
Once opened, use within 1 year.
Once mixed with Leather Finish, use mixture within seven days.
Crosslinker Eco should be mixed into the Finish at a ratio of one part Crosslinker Eco to eight parts finish (1:8);
As an example, 50ml of Crosslinker Eco should be added to 400ml of Leather finish giving 450ml of Crosslinked Leather Finish'
Make sure to stir or shake well for around two minutes to ensure the products have mixed thoroughly.
The Crosslinked Leather Finish has a pot life of seven days; meaning once mixed, it should be used within this time. Apply the Leather Finish as normal.
Q. What is the difference between Crosslinker X and Crosslinker Eco?
A. The Crosslinker Eco is a non-hazardous crosslinker, therefore is a safer substitute to the Crosslinker X. They both give the same results when mixed with the Leather Finish. Crosslinker X can also be mixed with our Adhesion Promotor, whereas the Crosslinker Eco cannot.
Cross Linker Eco also has a much longer pot life when mixed with Leather Finish; up to seven days use.
Q. Can this be used to strengthen other products?
A. The Crosslinker Eco is designed to be used with our Leather Finish. It can also be used with Leather Colourant, however there is a chance that it can slightly change the colour, therefore it is recommended as professional use only in this instance.
Q. Do I have to use the Crosslinker Eco with the Finish?
A. No, the addition of Crosslinker Eco is not necessary, however is highly recommended as it greatly improves the quality of the Finish. By adding Crosslinker Eco into the Finish it improves its rub resistance, colour fastness, reduces water sensitivity and increases the resistance to perspiration, grease and oils.
Crosslinker Eco
Fast curing, ready-to-use crosslinking agent used to strengthen polyurethane coatings for a robust, professional finish.

Toughens Leather Finish
Non-hazardous
Greatly improves wet and dry rub resistance
Greatly improves colour fastness
Significantly reduces water sensitivity
Increases resistance to perspiration, grease and oil