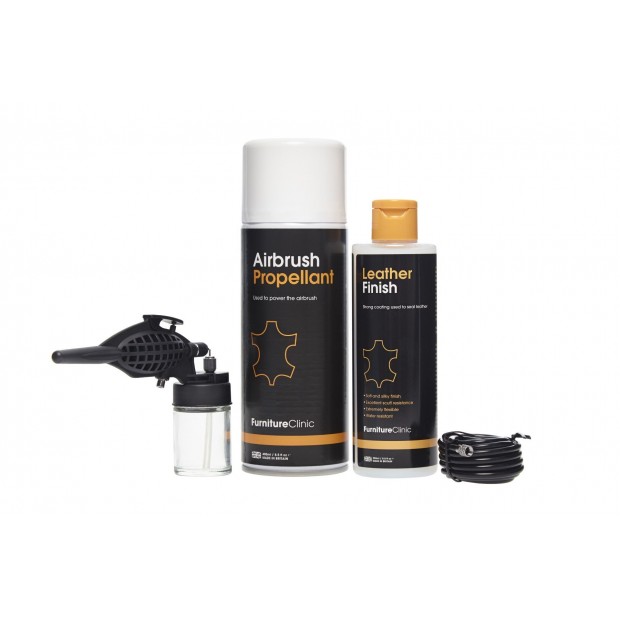 The leather finishes have been designed to seal in and protect leather. These are the same finishes applied to leather when it is manufactured to seal in the dye or pigment and to protect it from its surroundings.
The Leather Finish is water-based and so is non-hazardous and non-flammable. The Finish is extremely hard wearing and long lasting. It is a clear thin liquid that is easy to apply and offers superior scuff and scratch resistance compared to standard leather finishes, and also stops the colour from rubbing off.
Common Uses
1. Seal in leather that is starting to fade and wear.
This is very common with chesterfields and antiqued finished leather. The top coat wears away quite quickly with use, exposing the bright colour beneath. If you apply this product every 2 or 3 years it will prevent this from happening. On all other leathers you can use this kit to further seal the leather in the areas of high use (e.g. Car Bolster or Seating Panels), this will prevent the coatings from wearing away as quickly.
2. Change the shine.
The leather finish is available in matt, semi-matt, satin semi-gloss and gloss, so if your leather is looking dull and you want it to shine use the gloss to put some life back into the leather. Or if you prefer your leather matt, use the matt finish to kill the shine.
3. Preventing wear & tear.
Really useful for car seat bolsters or other areas that come under extreme wear & tear. By applying 3 coats of finish you are further sealing the leather in, and so reducing the chances of colour wearing off.
Leather Finish Kit is Suitable For
The Leather Finish Kit can be used to seal in and protect colour on any leather item, made from all types of leather including;
Aniline & Semi-Aniline Leather

Pigmented Leather

Oil and Wax Pull Up Leather

Bi-cast Leather

Two Tone, Mottled & Antique Finished Leather
Leather Finish Kits Coverage and Shelf Life
Small Kit: Completely restore finish to any item of leather up to the size of a large 2 seater sofa.
Large Kit: Restore finish to any item of leather up to the size of a three piece suite.
Store in a cool dry place, away from direct sunlight.
Store between 8°C and 30°C.
Once opened, use within 1 year.
Each kit comes with the following;
Small Kit:
250ml Leather Finish
400ml Propellant Can
1x Airbrush
Large Kit:
500ml Leather Finish
2 x 400ml Propellant Can
1 x Airbrush
Step 1.
Clean the leather first before using the kit, this is to ensure the Leather Finish will adhere properly. If the leather isn't too dirty use a damp cloth to dust off any dirt, or for dirty leather, use our Leather Cleaner to give it a good clean.
Step 2.
Set the airbrush up and spray one thin coat of Leather Finish onto the leather. A thin coat will make the surface look slightly wet, but not so much so that it runs. Once the Finish has been sprayed on, leave it to dry for 30 minutes or use a hairdryer to dry it instantly.
Step 3.
Once the finish is dry to the touch, leave it for 10 minutes and then buff it over with a soft cotton cloth to remove any roughness.
Step 4.
Repeat steps two and three one more time.
Step 5.
Once the leather has been properly finished. Leave it to thoroughly cure for 24 hours before use. After seven days, a coat of Leather Protection Cream can then be applied for maintenance.
Q. What is the Leather Finish Kit used for?
A. Leather Finish is used primarily to seal in colourant that has been applied to leather, this protects it from rubbing off and wearing away with use and it also provides a Matt, Gloss or Satin finish to the leather, depending on the type of finish applied.
Q. How does it work?
A. Once the colourant has been applied to the leather, the required finish is sprayed on in multiple coats, each left to dry before applying the next, then it is left to completely cure. This forms a strong, durable but flexible clear barrier (Matt, Satin or Gloss) over the colourant. This barrier acts as a shield or layer of defence on top of the colourant, preventing it from rubbing off or wearing away, sealing it in and protecting it.
Q. Can I use the Leather Finish Kit over a repair that I have coloured over or on an area I have recoloured?
A. Yes, this is in fact what the kit was designed for. Once you have made your repair or applied any colourant to the leather, simply apply the finish, matching the surrounding finish in terms of gloss level, and this will effectively seal in the colourant enhancing the durability of your repair. Often, matching the finish also helps to blend the repair with the surrounding leather, disguising it and giving the repair or touch up a more professional appearance.
Q. Can I clean and maintain my leather as normal after applying the Leather Finish?
A. Yes. After applying the finish, leave it for seven days, this allows the finish to completely cure (though it is fine to actually use the item after 24 hours). After seven days you can continue to clean and protect your leather as normal. We recommend the Leather Care Kit for this, providing powerful cleaning and protection for all leather items, in one handy package.
Q. What leathers can the Finish be used on?
A. Our Finishes can be used on all leather types and colour, except for suede and nubuck. It is also safe to use them on vinyl and faux leather, including bonded leather. My leather is fine, other than the shine has gone.
Q. Can I just re-apply the finish?
Yes, however before applying the new finish, you should thoroughly clean your leather first using our Leather Cleaner as this will allow the new finish to adhere properly to the leather.
Q. Will this rub off onto my clothes?
A. No, once the finish has dried it is completely rub resistant and will not rub off onto your clothes. It will also stop the colour from rubbing off onto your clothes too.
Leather Finish Kit
Professional lacquer to seal leather - cures sticky & tacky areas. Can also be used to enhance the shine or make your leather matt - it's your choice!
Soft and silky finish

Excellent scuff resistance

Extremely flexible

Water resistant