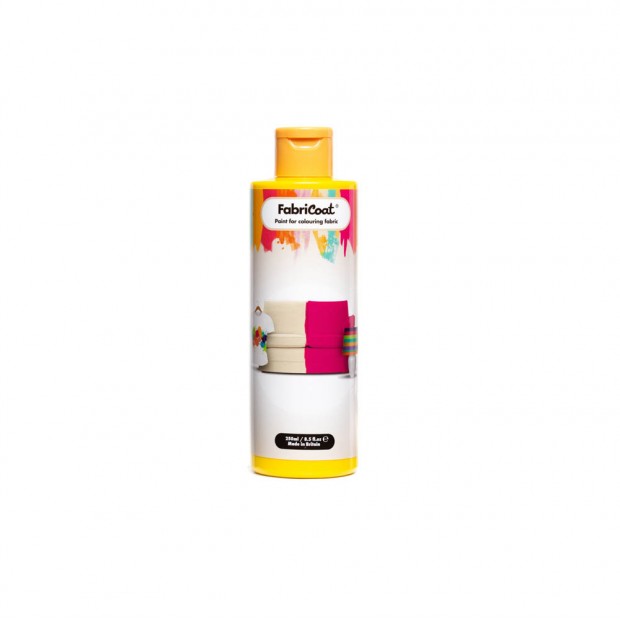 About Fabric Paint
Fabricoat is specialist fabric paint used to change or restore the colour to any item of fabric. It is extremely easy to use; just apply to the fabric with a brush or sponge and it will instantly soak in and dye the fabric.
Available in a large range of fabric paint colours, it can be used on sofas, upholstery, car seats, footwear, clothing, handbags and all other items made from fabric. The colours are strong and vibrant and will not fade or rub off after they have dried.
Once applied, the fabric paint remains soft and flexible providing a lovely, long-lasting finish that can be enjoyed for years. It soaks into all absorbent materials and once dry it will not make the material go hard or stiff.
The fabric paints can be mixed to match any colour of fabric and either used to restore fabric or paint custom designs on. If you're using the fabric paint to change the colour of fabric, make sure the fabric is currently a lighter colour than the paint you decide to use.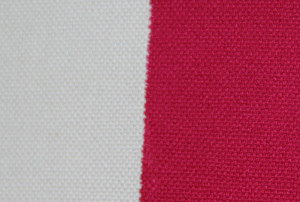 The photo is an ivory fabric we have changed colour, showing how the product has soaked in without changing the look or feel - you can still see the weave perfectly.
Fabric Paint can also be sprayed with an Airbrush onto the fabric. Using it as a fabric spray paint allows you to be creative with its application, which is ideal for creating a custom look.
Fabricoat Fabric Paint is Suitable For
Use Fabricoat Fabric Paint to restore or change the colour of any item of fabric, textile or canvas. It can be applied as a fabric spray paint using an Airbrush, or it can be applied with a sponge or paint brush.
It works great on both natural and synthetic fabrics so you don't need to worry if it will work on the specific fabric type you have.
Fabricoat Fabric Paint's Coverage and Shelf Life
250ml - will cover a dining chair or car seat.
500ml - will cover an arm chair (with a little left over).
1 litre - will cover a three-seater sofa.
If your fabric has a pile, such as velvet, faux-suede, chenille, draylon or microfiber you will need to use more products. This is because there is a lot more surface area to cover on these types of fabric, we recommend ordering double the above quantities for these fabric types.
Store in a cool dry place, away from direct sunlight.
Store between 8°C and 30°C.
Once opened, use within 1 year.
Fabric Paint Instructions
Fabric Paint can be applied to all types of fabric by either sponging, brushing spraying it onto the fabric. We recommend using a sponge or paint brush, as this is the easiest method and produces great results.
Using it as a fabric spray paint is mainly if you want to create a unique design, spray a stencil or achieve a pattern not possible by using a paint brush.
Whichever method you choose to paint fabric, you first need to make sure it is clean.
Cleaning the Fabric
Make sure the material is clean and free of dust. For best results, the fabric must be the same colour or lighter than the colour you are applying. The material must also be absorbent.
If you need a fabric cleaner, we recommend using our Carpet & Upholstery Cleaner. For clothing, just put it in the washing machine as you normally would.
Applying Fabric Paint with a Sponge or Paint Brush
Dampen the fabric first with water. We recommend spraying water on with a trigger spray bottle, but if you don't have one you can wipe it on too with a sponge or cloth.
Pour the paint into a bowl and dip in a sponge or paint brush. Rub this into the fabric and it will instantly soak in and change the colour. Apply one coat this way and leave to dry.
The fabric may feel slightly rough, but if you brush it with our Brush this will remove any roughness. This is just removing any excess fabric paint that didn't soak in properly. You can also use a cloth or similar brush to do this.
Apply a second coat of fabric paint in the exact same way as the first. Leave it to dry naturally overnight, and your fabric is ready to use.
If the fabric has a pile, it may feel slightly rough once dry. This is due to the fibres sticking together. Brush the pile in all directions with a Brush. This will loosen the fibres and soften the fabric. Brushing the pile while the FabriCoat is still wet can also help to avoid any roughness as the it dries.
Using as a fabric Spray Paint
Spray painting fabric is easy and can be used on upholstery, soft furnishings, car interiors, clothing, footwear and all other fabric materials.
Thin the fabric spray paint down with 50% water, which will help penetration into stubborn fibres. Pour the solution into the Airbrush and proceed to spray it onto the fabric.
First spray from side to side, and then up and down, to get complete and even coverage. Or spray it on in any other way if you're using it to create a pattern or specific look.
The fabric paint can then be dried with a hair drier or left to dry naturally. The material will be usable within an hour but it will continue to strengthen overnight.
Instructional Videos
These videos show how easy it is to paint fabric using our spcially designed Fabric Paint.
Customers Results Painting Fabrics
Fabric Paint on Sofa
This red velvet sofa had been bleached by the sun and our customer was able to restore the colour using our standard red Fabric Paint.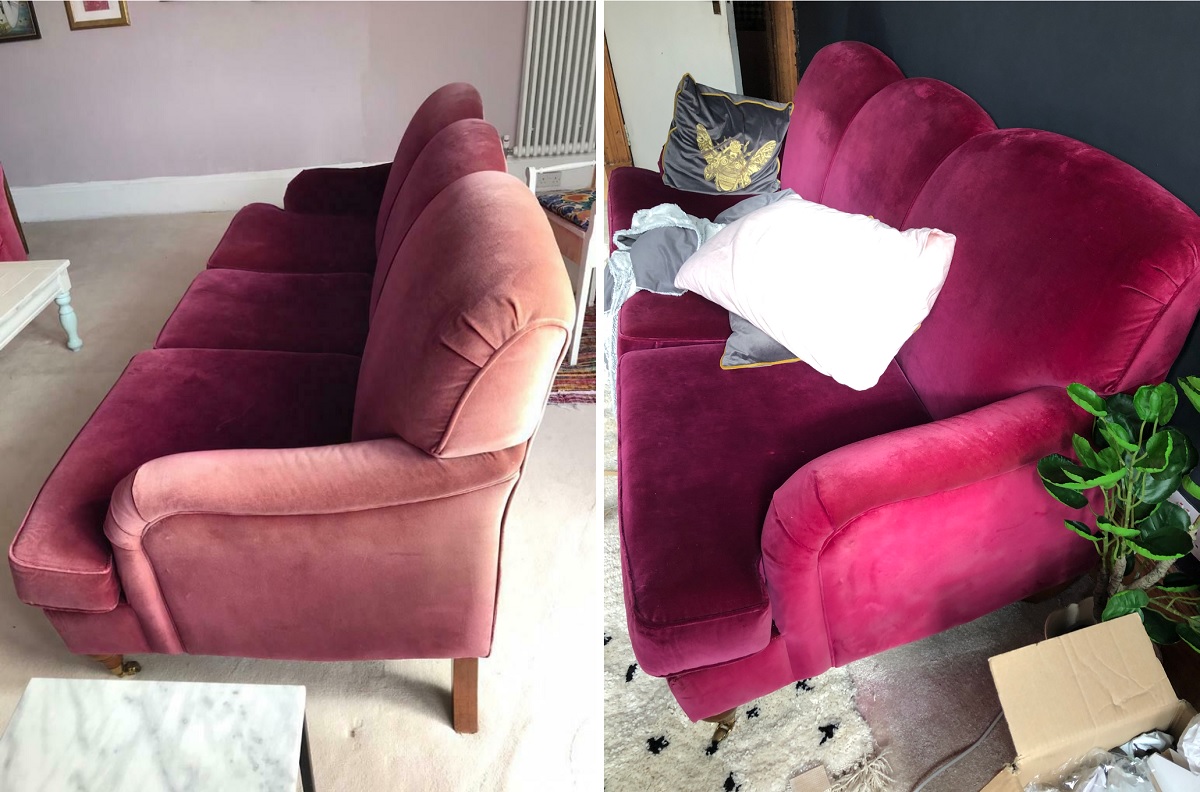 Fabric Paint on Car Interior
This car interior had faded on the door cards and also the carpets (although not shown here). The fabric was painted using the Red Fabric Paint and now looks as good as new. The fabirc Paint soaks into the fibres of the fabric so even after painting it still looks and feels like it should.

Fabric Paint on Blinds
These blinds were stained with our Fabric Paint.

Fabric Paint Colour Chart
Our range of fabric paints come in one of the colours below, or the paints can be mixed together to achieve any colour of fabric paint that you need.
Standard Fabric Paint Colours
C Black

C Dark Brown

C Medium Brown

C Red

C Orange

C Light Blue

C Dark Blue

C Turquoise

C Green

C Lime Green

C Yellow

C White
Custom Fabric Paint Colours
Light Grey

Dark Grey

Charcoal

Mink

Sand

Slate

Clay

Tan

Light Tan

Spring

Sunflower

Golden Charm

Rose

Red Sole

Maroon

Blush

Candy

Lilac

Purple

Sky Blue

Azure Sky

Regal Blue

Hawaiian Blue

Steel

Bottle Green

Mint

Fresh Green

Olive

Petal Pink

Salmon

Champagne
In addition to all of the custom colours we have, you can also mix any colours of Fabric paint together to achieve any fabric paint colour you need.
IMPORTANT: The colours shown here are dependent upon screen settings or monitor calibration, they are a guide only. The actual colour may vary.
Fabric Paint - FAQ
Q. Can I use your fabric paint to paint any fabric item?
A. Yes, FabriCoat is incredibly versatile and can be used on any fabric item including chairs, sofas, upholstery, clothes, curtains, car interiors, carpets and many more!
Q. Will painting my fabric change the feel?
A. No, FabriCoat is designed to dry with a soft, flexible finish, allowing you to recolour, or change the colour of your fabric items without changing how they feel. However, if you apply too much fabric paint, or if the material you are applying it to feels very soft/silky/velvety prior to application, then it may slightly stiffen the fabric. This can be reduced by brushing the fabric afterwards with our Cleaning Brush.
Q. Can it be used as a fabric spray paint?
A. Yes, spraying the paint onto fabrics is a great way to cover a larger area quickly, or, to create specific design effects.
Q. Can the fabric paint be used on any colour?
A. Yes you can paint fabrics any colour with this product. However, if you want to change the colour of an item of fabric then you must go to a darker colour.
Q. Is it a fabric paint for clothes?
A. Yes, it can be used to paint clothes and all other items of fabric such as sofas, shoes and soft furnishings.
Q. Do you have a black fabric paint?
A. Yes, in our standard range of colours there is a black fabric paint. This is highly concentrated so is great for both restoring or changing the colour of fabric to black.
Q. Can you use acrylic paint on fabric?
A. Our Fabric Paint is not an acrylic paint, it is made from polyurethanes and so is a lot more flexible. We wouldn't recommend using an acrylic paint on fabric.
Fabricoat Fabric Paint
Fabric Paint used for restoring or changing the colour of fabrics
Fabric Paint transforms colour without changing the texture or making the material stiff

The Fabric Paint can be used to refurbish faded and damaged fabric or transform it into something new.

Paint fabric easily with a sponge or paint brush

Spray onto fabrics as a fabric spray paint.

Paint onto fabrics using a paint brush, stamp or stencil.