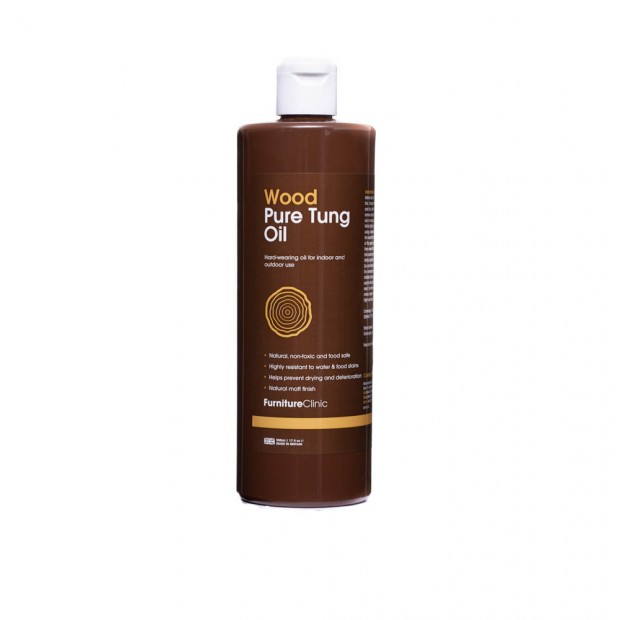 About Tung Oil
Our Tung Oil is a high quality, pure tung oil with no added driers or thinners making it natural, non-toxic and safe to use in all environments, including food surface areas. It provides a very hard wearing, water and stain resistant finish.
Being non-toxic it is also great for finishing toys and childrens furniture.
Tung Oil dries to a lovely natural matt finish and can be used on both indoor and outdoor wood, including both soft and hardwoods. Due to its strong water-resistant properties Tung Oil is ideal for use on all kinds of wood used outdoors.
Pure Tung Oil is ideal for sealing bare and unfinished wood, helping to prevent it from marking and staining with use.
Compliant with Articles In Contact With Food regulations, Tung Oil is also ideal for the treatment of wooden furniture and utensils used in the kitchen and dining areas, where contact with food, spills and exposure to water and other liquids are a frequent hazard to unprotected surfaces.
Tung Oil Features
Drying Time: 24 hours
Coverage: 20m2 per litre
Coats: 3 coats to bare wood
Re-coat time: Once previous has dried
Maintenance: Once a year, or when showing signs of 'drying'
Application: Apply with a Foam Brush or Cloth
Pure Tung Oil is Suitable For
Our Tung Oil can be used on all types of wood (oak, beech, teak, etc), both hardwood and softwoods, and is 100% natural so is great for anyone looking for an all natural oil. It's great for:
Interior & Exterior Wood

Hardwoods and Softwoods

Kitchen Worktops & Utensils

Furniture

Doors and Windows

Hardwood Floors

Toys

Turned Wood

Untreated timber and bare wood

Decking - it is a great natural decking oil
Pure Tung Oil's Coverage and Shelf Life
Tung Oil will cover 20m2 per litre.
Store in a cool dry place, away from direct sunlight.
Store between 10°C and 25°C.
How to use Tung Oil
Maintaining wood with Tung Oil
For maintenance of new or used items, simply re-oiling once a year is sufficient for all year round protection. Further coats can be applied to high use areas more frequently, if required.
Shake well before use. If you are unsure of the finish, test it on an unseen area first.
Ensure the surface is clean and dry before application, and any old oils or waxes have been removed if restoring an item.
NOTE: The first coat can be mixed 50:50 with White Spirit for better penetration. Do not dilute subsequent coats.
Apply the Tung Oil liberally to a Lint Free Cloth or Foam Brush and rub into the wood following the direction of the grain. Some areas of wood will be more absorbent than others; apply more Tung Oil to any areas which look dryer than other areas. Continue to do so until the full surface of wood looks wet throughout. Leave for 20 minutes and then wipe off any excess.
Leave the Tung Oil to thoroughly soak in and dry for 24 hours.
Apply a further 2 coats, leaving to dry for 24 hours in between each coat. Subsequent coats do not need to be saturated as per the first coat.
Our Tung Oil is 100% Pure Oil and so takes longer to dry than other oils as it contains no thinners or drying agents.
Re-Oiling older wood with Tung Oil
When re-oiling older items of wood, it is important that you remove all previous oils, waxes or finishes before applying the Tung Oil. If the surface feels rough, it should be sanded smooth first, for best results.
Once the surface has been prepared, you can follow the instructions above for applying the Tung Oil.
Instructional Videos
The below video shows you how to use Tung Oil and what it looks like when applied to wood.
Images of Tung Oil on Wood
This live edge oak board has been finished with Tung Oil. It gives the oak great protection and enhances the look and feel of the wood. Using Tung Oil on oak is great for all items of wood made from oak.

The below image shows how the Tung Oil enhances the natural beauty of various shades of wood. In the examples below we have applied it to Beech, Oak and Walnut so you can see how it looks on light, medium and dark coloured woods.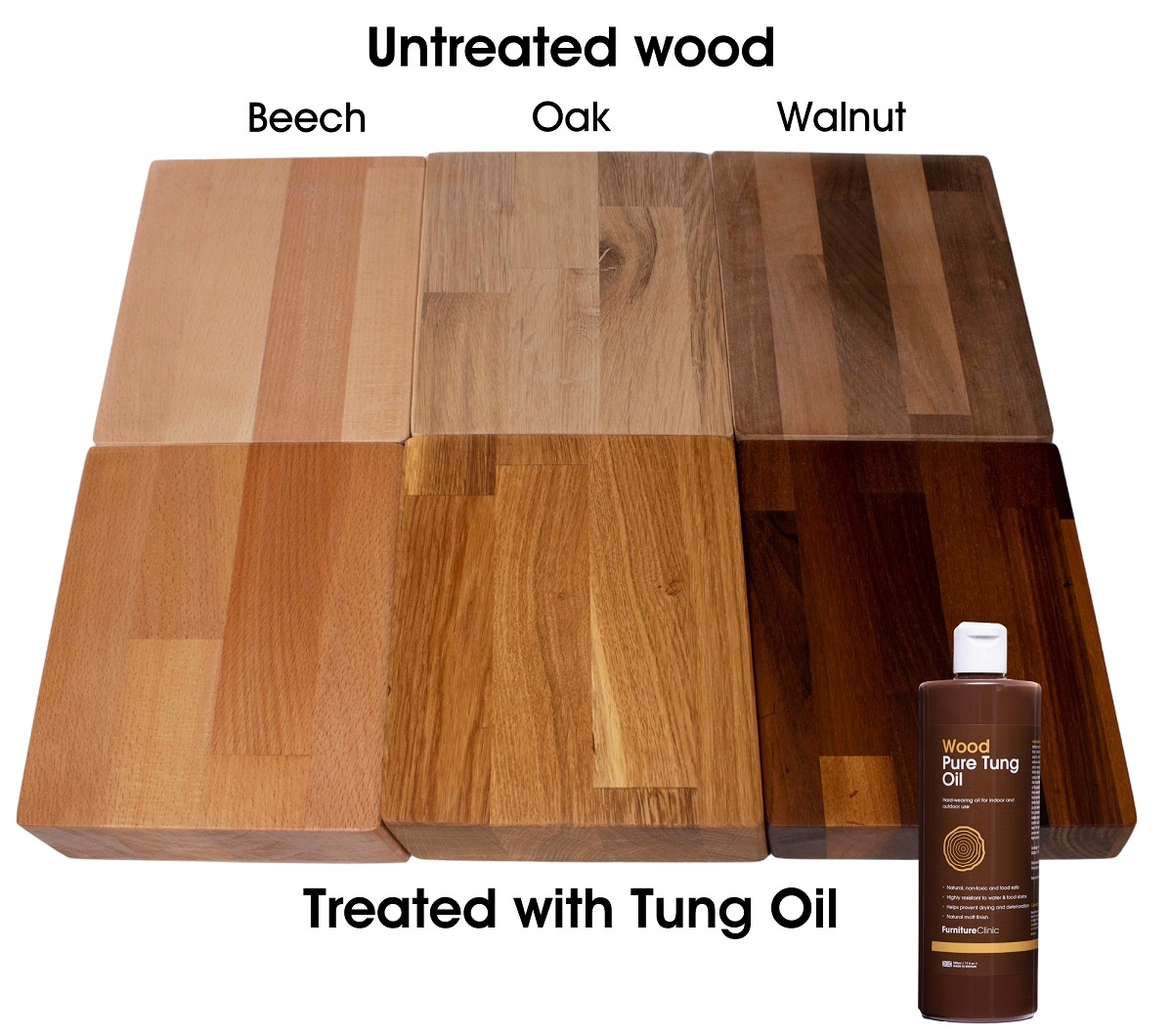 FAQ - Oiling wood with Tung Oil
Q. Can I use Tung Oil on oak?
A. Yes. Using Tung Oil on oak provides a lovely finish to the wood and enhances the natural beauty of the oak. It has great protective properties too, so once applied to oak the wood will be water and stain repellent.
Q. What is Tung Oil?
A. Tung Oil is a drying oil extracted from the nut of the tung tree, found in China. It is an extremely water resistant oil and was histroically used as a water resistant finish on boats and ships.
Q. Does Tung Oil protect wood against stains and spillages?
A. Yes. Our Tung Oil provides a great resistance to water, which makes it a good choice of oil to use on kitchen worktops. It is the best all natural oil you can get for water repellence.
Q. Is Tung Oil safe for food surfaces?
A. Yes, once the Tung Oil has dried it is completely safe for food surfaces and utensils.
Q. Is Tung Oil safe to use on toys, or items for children?
A. Yes, once dry it is completely safe and is compliant with Articles In Contact With Food regulations.
Q. What look does Tung Oil give to wood?
A. Our Tung Oil leaves a nice, natural matt finish to the wood, protecting it against water staining.
Q. How many coats are required for full protection?
A. If you are applying Tung Oil to untreated or bare wood we recommend applying 3 coats. For general maintenance only one coat is required.
Q. What is the benefit of mixing the Tung Oil White Spirit, and is it needed?
A. It is optional as to whether you mix the Tung Oil with White Spirit. If you do, this should only be used for the first coat. The benefit of doing so allows the Tung Oil to penetrate further into the wood, making for a better surface and longer lasting coating.
Q. Does Tung Oil stain wood?
A. No, although the Tung Oil will darken your wood to a certain degree, it has no colour properties to it. The darkening effect will differ depending on how absorbent the wood is. If you're looking to stain wood, use our Wood Stain.
Pure Tung Oil
Tung Oil is a hard wearing, water resistant oil for all indoor and outdoor wood.
100% natural, non-toxic and food safe

Highly resistant to water and food stains

Helps to prevent drying and deterioration of wood

Dries to a natural matt finish

Good penetration into all types of wood
Special offer for 2.5L: HK$700 HK$460