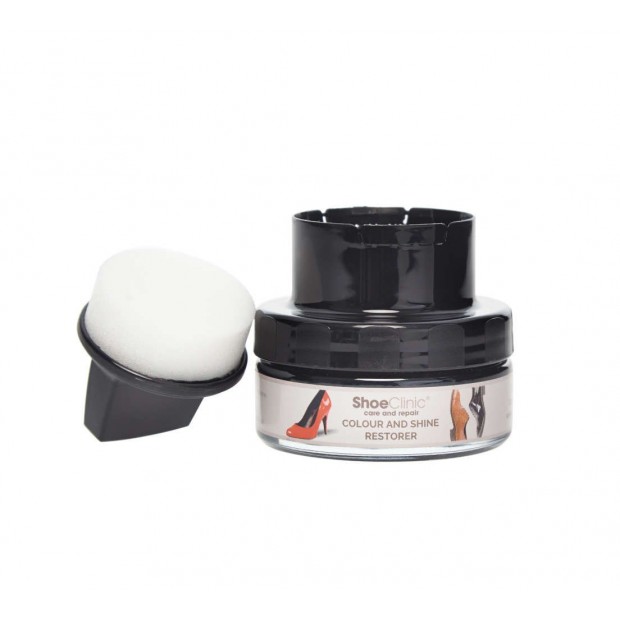 We developed this product on special request from a shoe chain in Asia. Traditional shoe polish dries out, is flaky, difficult to apply & messy; so we were given the task of developing a new product to suit the needs of modern day leather.
Benefits
Wax Based – Feeds, nourishes, softens & protects leather.
Safe To Use – Water Based so can be used on all items of footwear without causing any damage and without a strong odour.
Easy To Apply – Thick cream is rubbed into the shoe with the lid applicator sponge.
No Mess – The cream is applied onto the leather without flaking off or the need to be brushed like traditional shoe polish.
Doesn't Dry Out – Stays soft and easy to use in the jar.
Shoe Shine & Colour Restorer is Suitable For
Can be used on all types of leather footwear except Suede/NuBuck.
Aniline & Semi-Aniline Leather

Pigmented Leather

Oil and Wax Pull Up Leather

Bi-cast Leather

Two Tone, Mottled & Antique Finished Leather
It works great in replacement of traditional shoe polish, but more importantly it can be used for more delicate and natural leather shoes, boots & footwear where you wouldn't previously have used a shoe polish.
Shoe Shine & Colour Restorer's Coverage and Shelf Life
One 50ml jar is enough to:
Shine & restore colour to a pair of shoes over 50 times!
Stored in a cool dry place, Shoe Shine & Colour Restorer will not go hard or dry out. It will last for years.
Step 1.
Remove the sponge applicator from the lid and dip it into the cream.
Step 2.
Rub the sponge into the shoe ensuring all areas of leather are evenly covered with product.
Step 3.
Leave for 5 minutes and buff with a clean cloth. The more you buff, the higher the shine can be restored.
Colour Chart
Black

White

Dark Brown

Medium Brown

Tan

Beige

Camel

Navy Blue

Light Blue

Maroon

Red

Bordeaux

Pine Green

Pale Green

Dark Grey

Light Grey

Ivory

Cream

Yellow

Lilac

Pink
NOTE: Each colour as you can see is split into three shades, this is to indicate that each colour balm works on those different shades of the colour, i.e. from a light to dark shade. So the more balm you apply, the darker the leather becomes, this is why you are able to achieve varying shades of a colour.
IMPORTANT: The colours shown here are dependent upon screen settings or monitor calibration, they are a guide only. The actual colour may vary.
Shoe Shine & Colour Restorer
Quick and easy solution for restoring colour and shine to leather shoes.