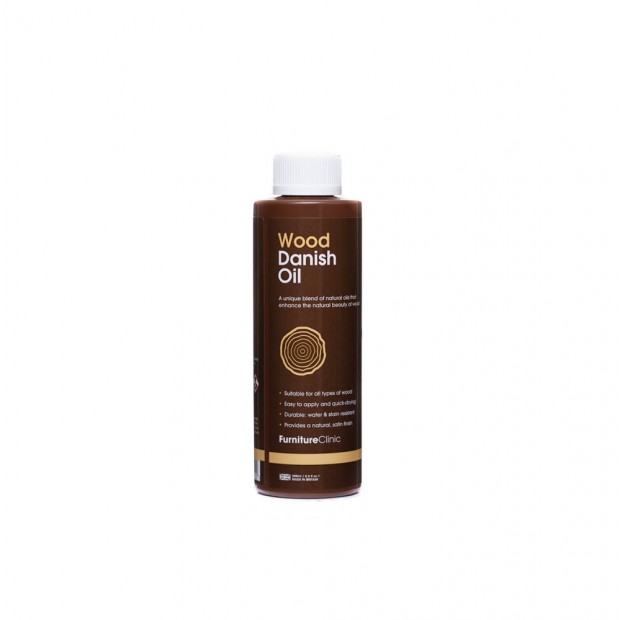 About Danish Oil
Our Danish Oil has been formulated to seal and finish any wooden surface as well as re-oiling wood for maintenance. A time tested and proven blend of natural oils and resins, it penetrates deep into all interior and exterior wood and dries to provide a hard, durable, and highly attractive satin finish.
The natural finish provided with the application of Danish Oil provides water resistance to all woods (including bare wood), helping to reduce staining and make the wood easier to clean and maintain. This protects and enhances the natural beauty of your wood and does not leave a surface film that can chip or scratch with use. Incredibly versatile, our Danish Oil may also be used as a primer before painting or varnishing.
Compliant with Articles In Contact With Food regulations, Danish Oil is also ideal for the treatment of worktops and utensils used in the kitchen and dining areas, where contact with food, spills and exposure to water and other liquids are a frequent hazard to unprotected surfaces.
Danish Oil Features
Drying Time: 4-6 hours
Coverage: 20m2 per litre
Coats: 3 coats to bare wood
Re-coat time: Once previous has dried
Maintenance: Once a year, or when showing signs of 'drying'
Application: Apply with a Foam Brush or Cloth
Danish Oil is Suitable For
Danish Oil can be used on all types of wood (oak, pine, beech, walnut etc) and on wood used in any environment.
Interior & Exterior Wood

Hardwoods and Softwoods

Kitchen Worktops & Utensils

Furniture

Doors and Windows

Hardwood Floors

Toys

Turned Wood

Untreated timber and bare wood
Danish Oil's Coverage and Shelf Life
20m2 per litre.
Store in a cool dry place, away from direct sunlight.
Store between 10°C and 25°C.
Once opened, use within three years.
Upgrade to the Wood Oil Kit
The Wood Oil Kit contains everything you need to correctly clean, prepare and oil all wooden surfaces. Use it to get the best results with our Danish Oil - Wood Oil Kit.
How to use Danish Oil
Our Danish Wood Oil can be used to maintain wood, and restore wood. The below instructions explain how to get the best results using our Danish Wood Oil.
Danish Oil for Maintenance of Wood
For maintenance of new or used items, simply re-oiling once a year is sufficient for year-round protection. Further coats can be applied to high use areas, if required.
Danish Oil for Restoration of Wood
When restoring old items of wood, it is important that you remove all previous oils, waxes or finishes before applying the Oil. If the surface feels rough, it should be sanded smooth first, for best results.
How to apply Danish Oil
Ensure the surface is clean and dry before application, and any old oils or waxes have been removed if restoring an item. Use our Wood Cleaner to clean the wood if needed.
Shake well before use. If you are unsure of the finish, test it on spare wood, or an unseen area first.
Apply the Danish Oil liberally to a Foam Brush and wipe onto the surface following the direction of the grain. Leave to penetrate for two to three minutes and wipe away any excess oil with a Lint Free Cloth.
Leave to dry for four to six hours.. Two more coats should be applied after the first, leaving the full four to six hours drying time between each coat to ensure the previous application has completely dried before applying the next.
For the finest of finishes, use one of our De-nibbing Pads inbetween coats of oil to create a super smooth finish.
Once the last coat of Danish Oil has dried you can use the wood as normal.
If you'd like a polished look to the wood, use our Beeswax Polish at this stage
Danish Oil Finish
The below photos show what finish danish oil can give various types of wood.
Danish Oil on oak stair rail
This photo shows the before and after of danish oil being applied to an solid oak bannister. Danish Oil on oak really brings out the natural look and feel of the wood, enhancing the appearance of oak, as well as protecting it and making the oak easier to clean and maintain.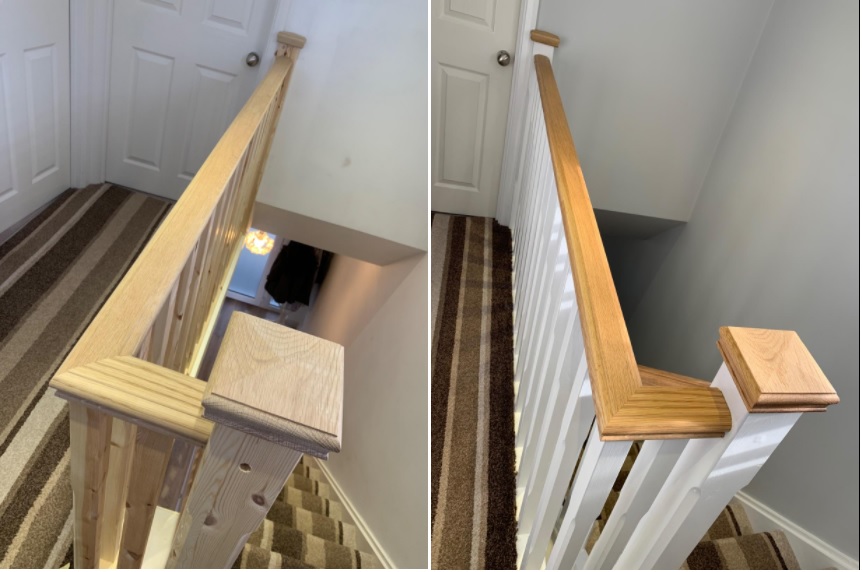 Danish Oil on Oak
This is a close up showing what Danish Oil looks like when applied to oak. You can see the oil darkens the wood slightly, enhancing the natural characteristics of the oak.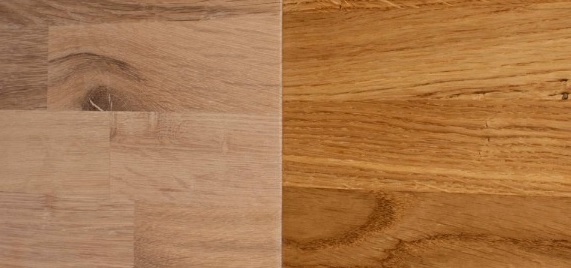 Danish Oil applied to parquet flooring
Here you can see customer photos of the danih oil being used to oil parquet flooring. The left photo shows only the bottom half being oiled, and the photo to the right is the finished floor.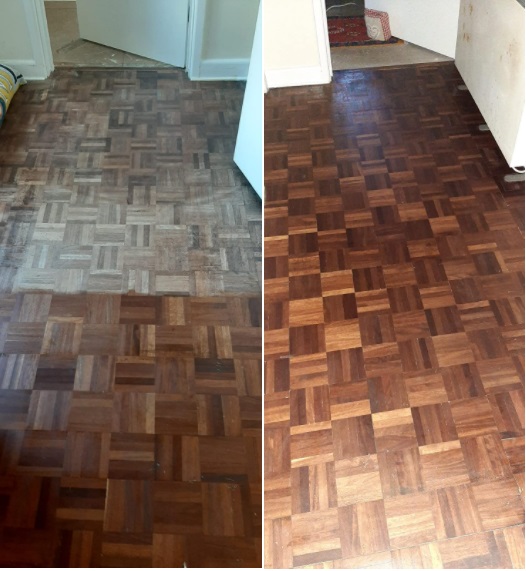 Danish Oil on a small table
Our customer sent these photos in with a review showing how the Danish Oil has enhanced the colour of the wood in this small table.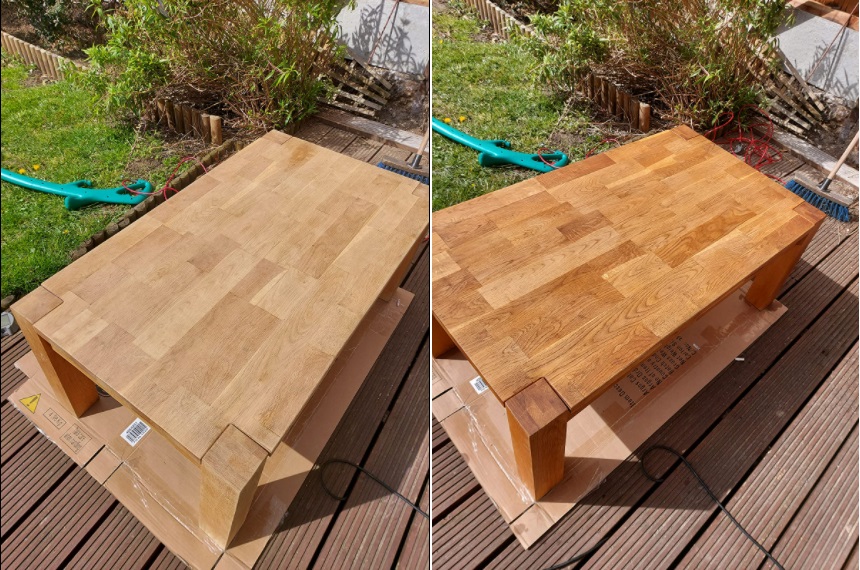 Danish Oil applied to different wood types
The below image shows how the Danish Oil enhances the natural beauty of various shades of wood. In the examples below we have applied it to Beech, Oak and Walnut so you can see how the danish oil finish looks on light, medium and dark coloured woods.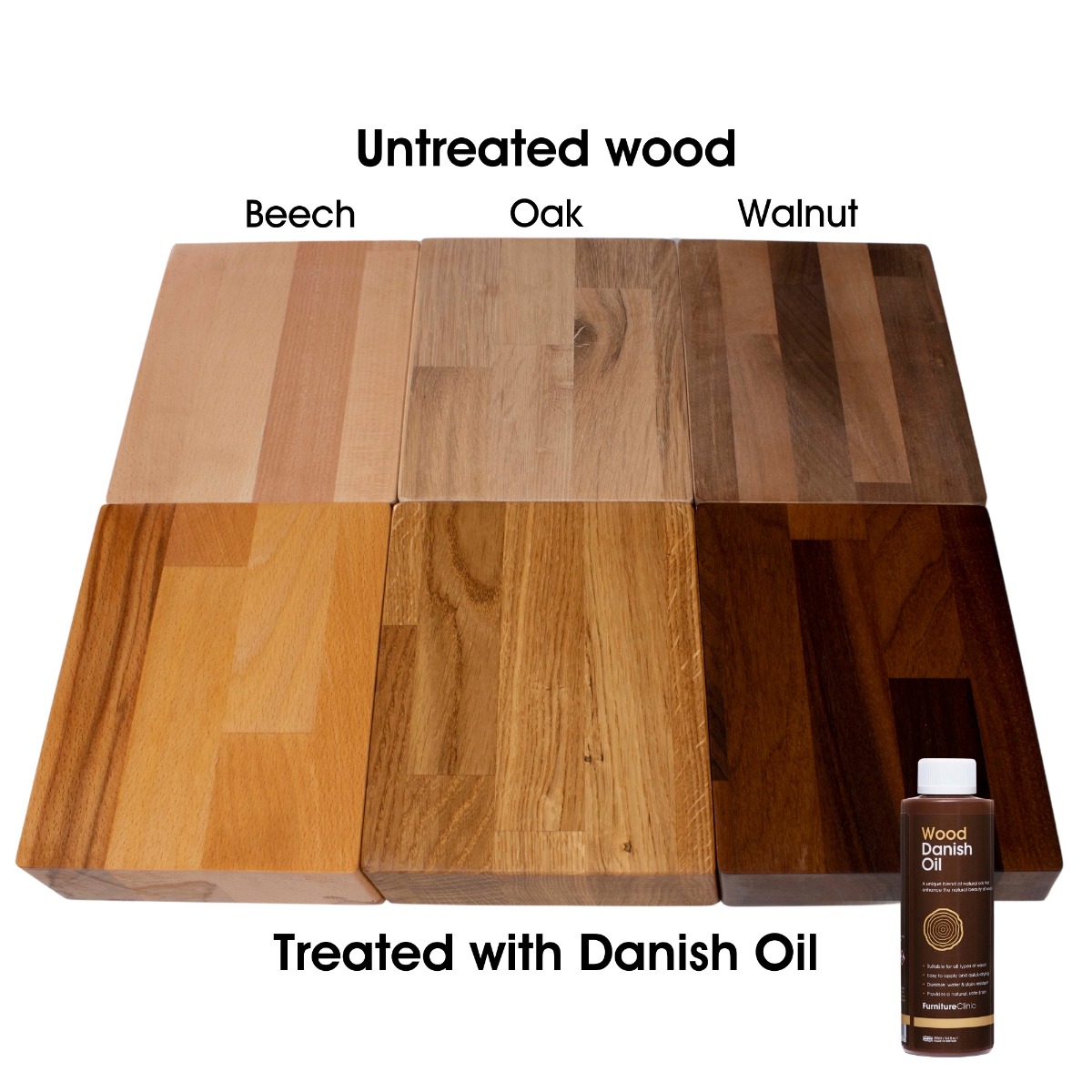 FAQ - Oiling wood with Danish Oil
Q. Can you use danish oil on oak?
A. Yes. It is a great oil for oiling oak. Not only will the danish oil protect oak, but it really brings out the grain, enhancing the natural look and feel of all items made from oak.
Q. Can you use danish oil on pine?
A. Yes. Danish Oil is great for use on pine. As pine is a softwood it marks easier than hardwoods; using Danish Oil on pine will protect the surface of the pine and help stop it from marking as easily. Like when it is applied to all woods, Danish Oil will enhance the natural look and feel of pine.
Q. Is Danish Oil food safe?
A. Yes, our Danish Oil is food safe. It is compliant with Articles In Contact with Food regulations. Once the oil has fully dried it is completely safe for food to be in contact with it.
Q. Can Danish Oil be used on worktops?
A. Yes, Danish Oil is great for worktops. This is why we have specificed Danish Oil in our Worktop Maintenance Kit.
Q. Does Danish Oil stain wood?
A. No, although it will slightly darken the wood, it has no colour properties in it. The darkening effect will vary depending on how absorbent the wood is. If you want to stain wood, use our Wood Stain.
Q. Will Danish Oil protect wood from liquid spillages and stains?
A. Yes. The Danish Oil provides great resistance to water and staining, which is what makes it our recommended oil for applying to kitchen worktops, especially around the sink.
Q. Is Danish Oil safe to use on wooden toys or items used by Children?
A. Yes, once dry the Danish Oil is completely safe and compliant with Articles In Contact With Food regulations.
Q. How long does it take Danish Oil to dry?
A.Between four and six hours. The first coat will quickly soak into the wood, leave it for a few minutes and then wipe away any excess. Then leave to dry.
Q. How do I get a perfectly smooth finish with Danish Oil?
A. Once the Danish Oil has dried, rub it down gently with a de-nibbing pad. This will remove any 'nibs' and imperfections in the finish creating a lovely smooth feel. Do this inbetween each coat of oil you apply and again on the last.
Q. Do I need to seal Danish Oil?
A. No, there is no need to apply any other finish over the top. However, you can apply Beeswax Polish if you want to get a deep shine on the wood.
Q. How should I dispose of used cloths with Danish Oil on?
A. Your cloth/ applicator used for oiling may spontaneously combust. It should be cleaned in warm soapy water to remove any excess oil and place in an outside bin.
Danish Oil
Danish Wood Oil is a unique blend of natural oils and resins that penetrate, and enhance the natural beauty of all wooden surfaces.
Suitable for use on all types of wood

Easy to apply and dries quickly

Durable: water and stain resistant

Provides an attractive, natural, satin finish

Helps prevent drying and deterioration